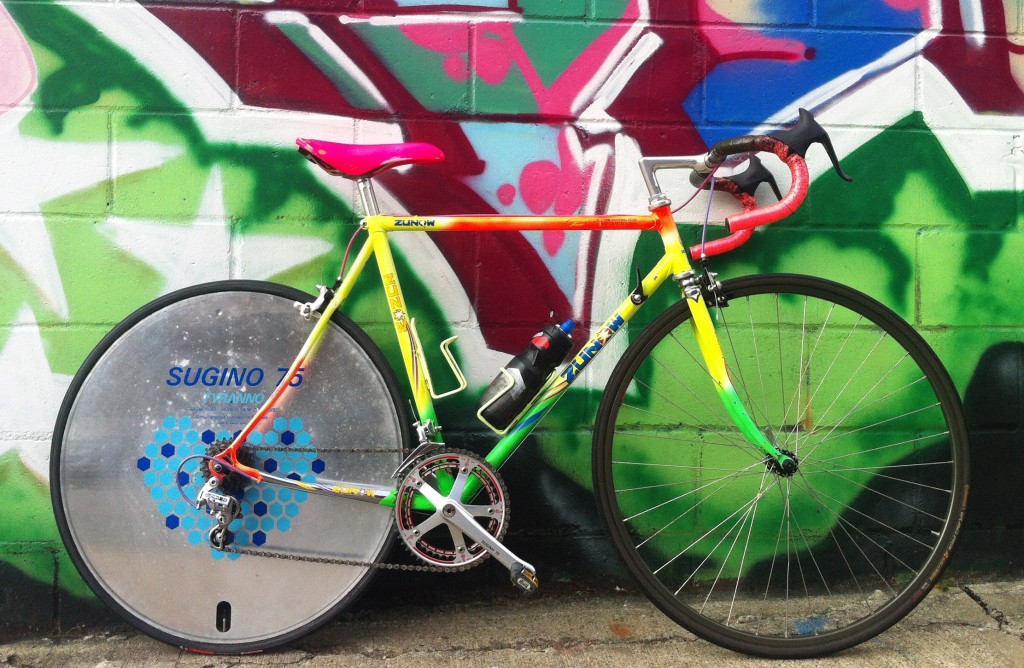 The post has been long overdue. Above is my Zunow Z-1 road bike, equipped with a Sugino 75 road group. It has a 53.5cm seat tube, making it slightly large in size for me, but I have the fit dialed in quite well. An earlier build of this bike (sporting tri-spokes, LOL!) was featured on the Chari & Co. blog two winters ago, and it's taken a quite a while longer to "finish" it.
The Zunow Z-1, made by Takeru Kageyama, was their top-of-the-line road bike, made with their proprietary lugs and Tritec / Ditchex tube set. The drop-outs are Campagnolo, although Zunows were also made using SunTour dropouts as well as their own Zunow-branded ones.
The rear triangle is atypical for the Z-1 series; they usually have a more typical seat stay arrangement with a bi-plane style brake bridge. My Z-1 has wishbone style seat stays with a gentle curve in the stays. The chain stays are curved too, and the entire rear is chromed. Wishbone rear stays are more commonly seen in their DiPicce and Lepton models.
Read on for more…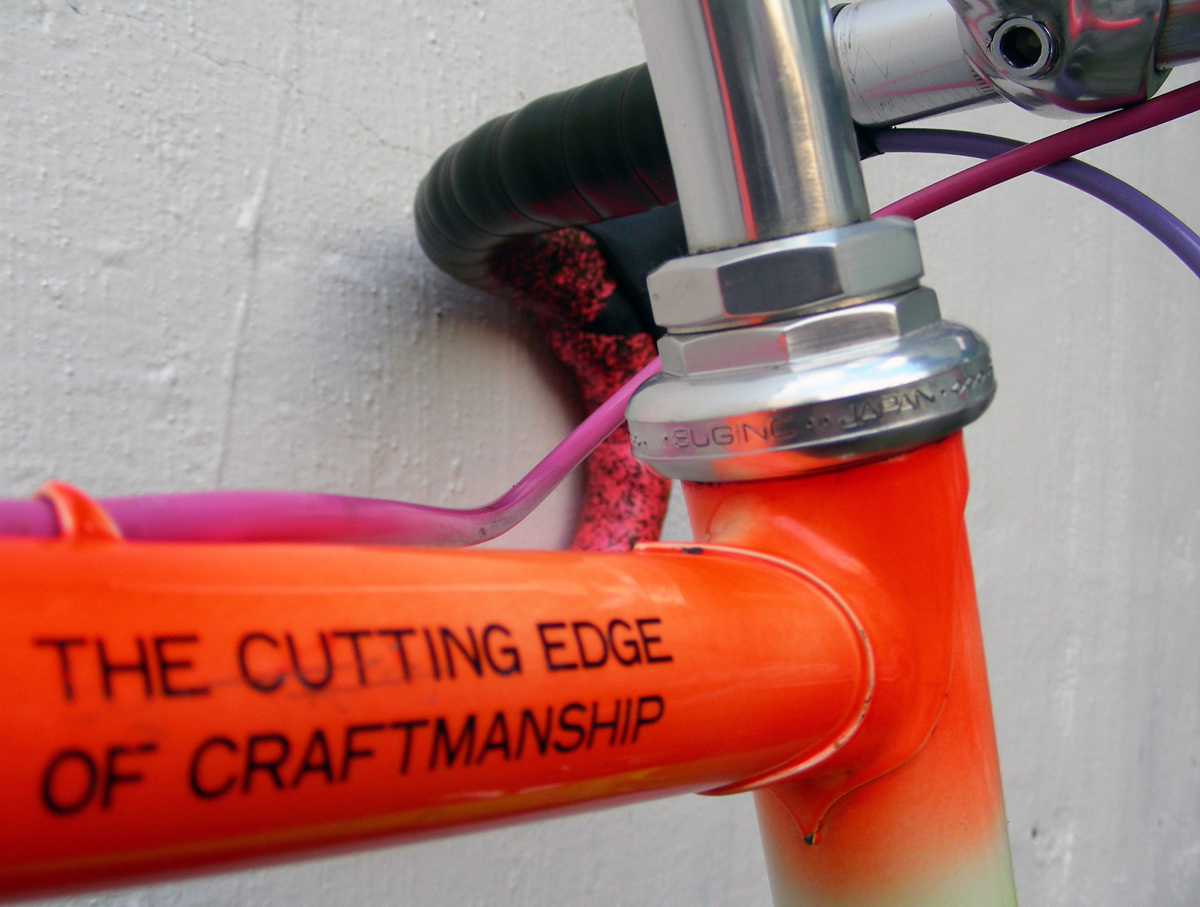 It took me over two years to collect up a complete Sugino 75 group, due to the rarity of these components. The name Sugino 75 is better known in the track bicycle / fixed gear world as one of the most popular high-end crank sets. Sugino 75 was created in 1985 to celebrate the 75th anniversary of the Sugino company, and included both road and track components. The only bike I know of that was outfitted with a complete group was the Lotus Elan 75, in 1987. I have seen the cranks and brake levers for sale separately in a Nashbar catalogue from the same era.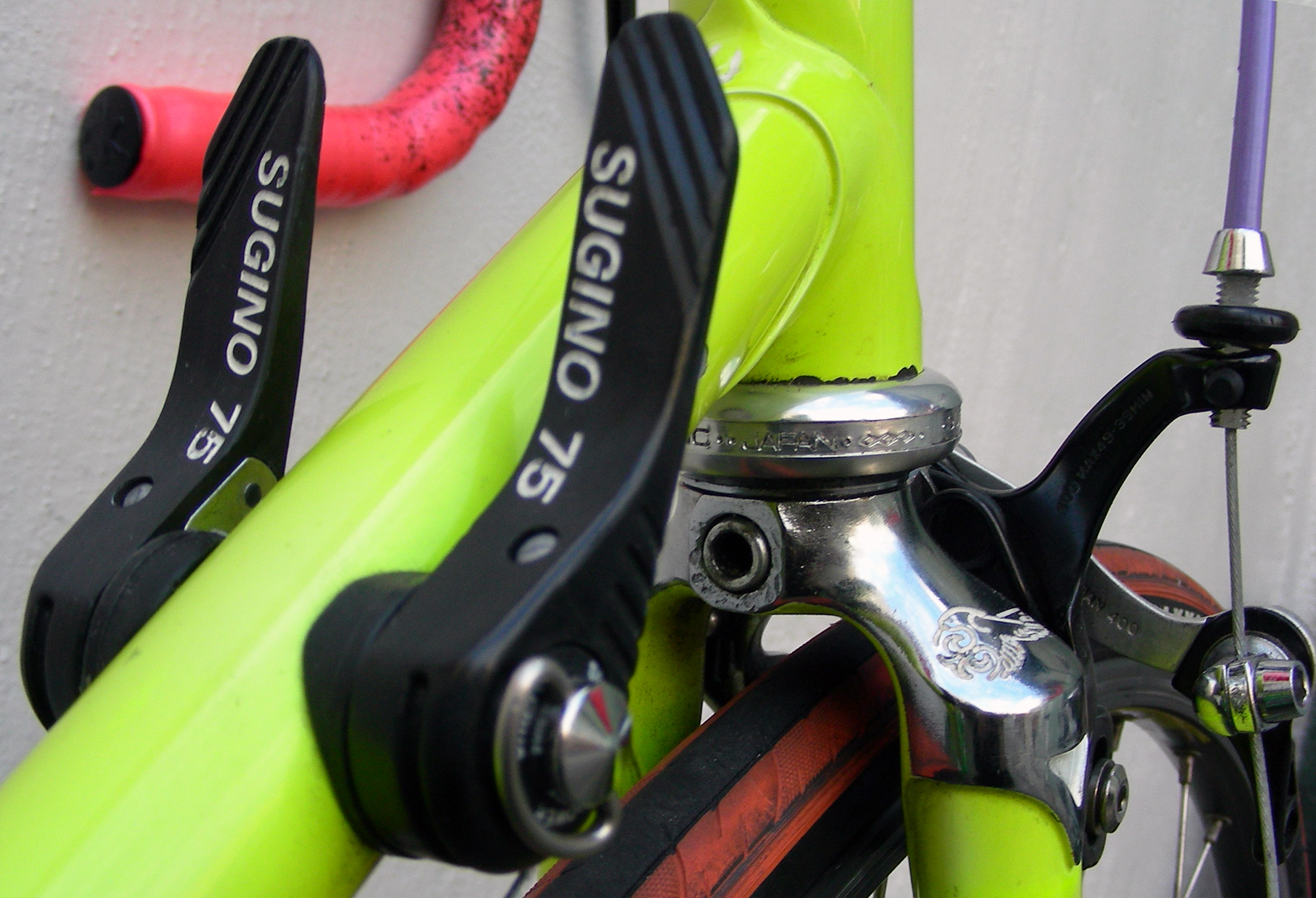 Sugino made the cranks and chain rings, 130BCD for road and 144BCD for track. The brake calipers were sourced from Dia-Compe and the derailleurs from SunTour; the rear is a re-branded SunTour Cyclone and the front is a re-branded Superbe. I have also seen a Shimano 600 front derailleur re-branded as Sugino 75, as well as different models of the Superbe fronts, indicating that there probably isn't a single canonical "group."
I'm not sure who made the shifters, brake levers, and pedals. These parts were some of the earliest production examples of carbon as a building material for bike components. Later, Sugino added a carbon seat post and chain rings to the group. The rear wheel is a Sugino 75 Tyranno, made of aluminum honeycomb. Heavy by today's standards, it still looks cool and works well. The front wheel is an Araya hard anodized rim laced to a SunTour black-anodized hub.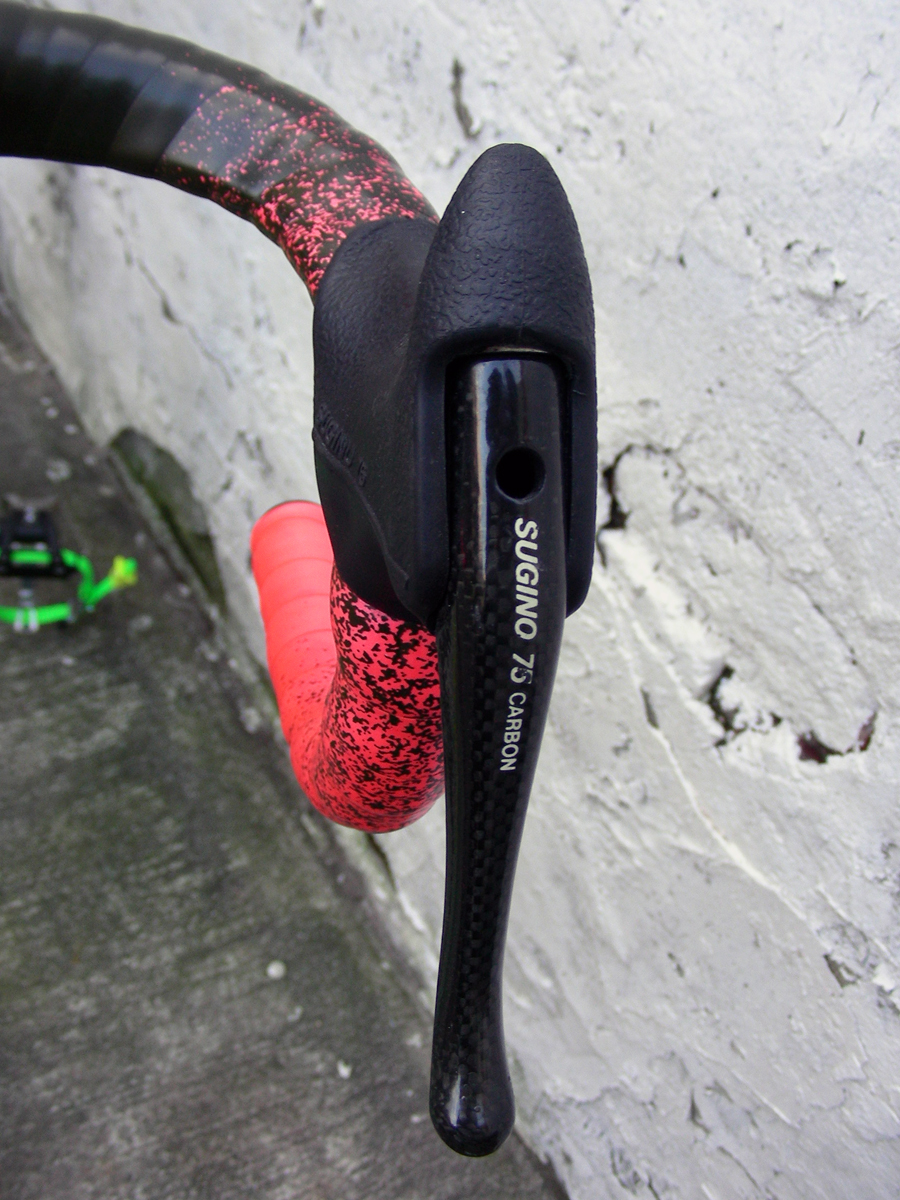 I believe the brake levers, seat post, and chain rings are made of aluminum that's been wrapped in carbon fiber for strength, as opposed to being completely made of carbon fiber like modern examples. The pedals and shifters appear to be made of some sort of carbon / polymer mix. The pedals are marked "CFRTP" maybe that means "Carbon Fiber _ _ Polymer"? The shifters have a ratcheting mechanism, possibly manufactured by SunTour.
The seat post, stem, and headset are all Sugino too, although not strictly part of the 75 group. Sugino headsets are quite rare, and may have been made by Tange for the Sugino Mighty product line. The bottom bracket and outer chain ring are pantographed by Zunow! In the 25-30 years that Kageyama was building bikes under the Zunow name, there were many proprietary and pantographed bits created. Chasing them down adds a sort of "next level" to the already challenging hobby of collecting Zunow bikes.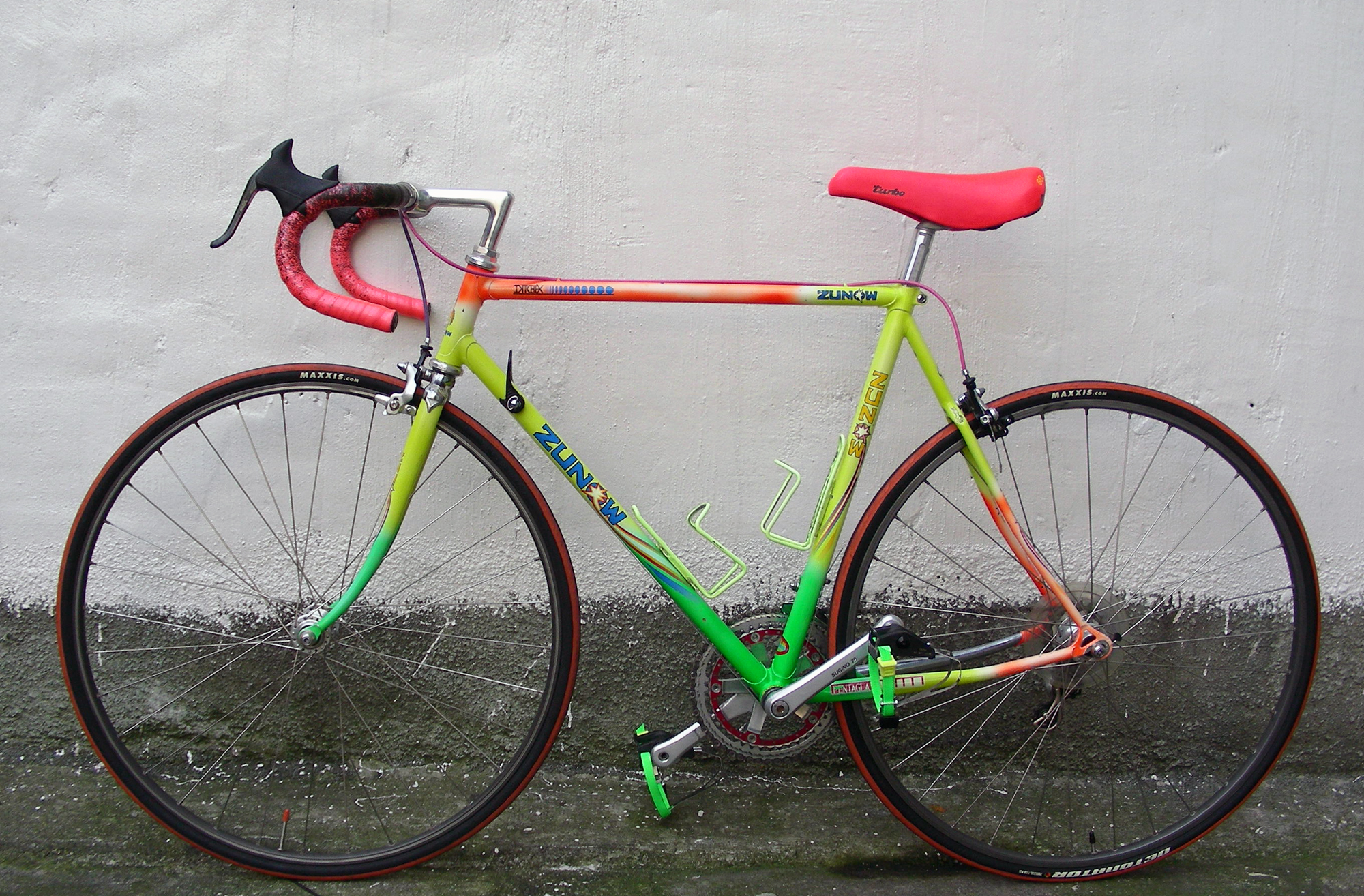 I came to know about Japanese steel not through the big names exported to the states, but through NJS Keirin bikes, which are mostly hand-made in small shops. I admired San Rensho lugged steel track bikes, but was even more impressed with their road bikes. It's these artisans, like the Konno family (Cherubim, San Rensho) or Yoshiaki Nagasawa, or Zunow's Takeru Kageyama who truly make 100% Japanese bikes.
They learned their craft from the Italians but execute more cleanly and precisely. And by the 1980's they were sculpting their own lugs and experimenting with all kinds of radical designs. And when they were done, they coated them with some of the wildest, loudest paint jobs ever. Sounds Italian, except they were Japanese. Nagasawa worked under Sante Pogliahi and Ugo DeRosa for years, and his favorite phrase is "You got to ride your bike like you ride your wife."
To me, Zunow is the epitome: proprietary lugs and tubing, hidden engravings, wavy rear triangle, and a lugged monostay. Painted three shades of fluorescent!
I hope to get a chance to visit Kagayama's former workshop in Osaka one day. The iconic Zunow "hummingbird" logos are tattooed on my calves, so I guess I probably qualify for "otaku" status. If I was to acquire another Zunow, it would probably be one of the older "KYGM" touring models or the "Beradonna" model with extra-fancy chromed lugs. Considering that they pop up for sale less than once a year, it could be a while.
For now, enjoy the gallery of shots of this one!