For a while now, I have been searching for cycling shoes that are fashionable and comfortable enough to wear every day.  A while ago I got a pair of 611 Filter shoes (reviewed here) that have become my favorite every day shoe.  However, I still felt like I hadn't attained the holy grail of sneaker cool – Nike Dunks.  Nike did this themselves a year or so back with the Gyrizo shoe for the Beijing Olympics, but only a small number were made and they sold for around $300.  Even if you can afford that price tag, you can't find them for sale anywhere…
…And so this past Sunday, I busted out my tools and made good on my dream to create an unholy alliance of Nike Dunks and SPD cleats: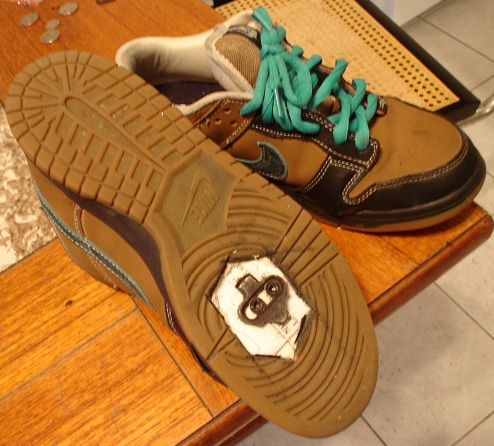 Read on for a complete tutorial on how I made them.
Ingredients:
An old pair of "Slam City" Dunks, size 9.5: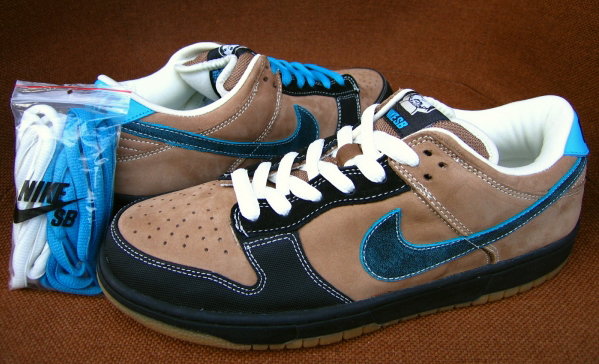 … mashed-up with a pair of old Adidas Girano road shoes Size 9
…and a set of Shimano SPD cleats: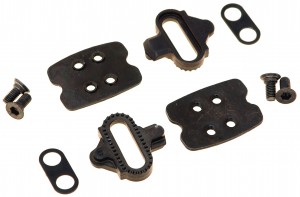 Tools:
Dremel Multi-tool with large cutter wheel
electric drill
flathead screwdriver
goggles and face protection
Instructions
Step 1: I removed the insoles from the Girano shoes. Then I used the cutter wheel to remove the sole of the Girano from the upper. The insole was a bit too thick so I used the flathead screwdriver to pry off the padding to strip it down to the raw plastic sole.
Here's a pic of the Girano upper when I was done: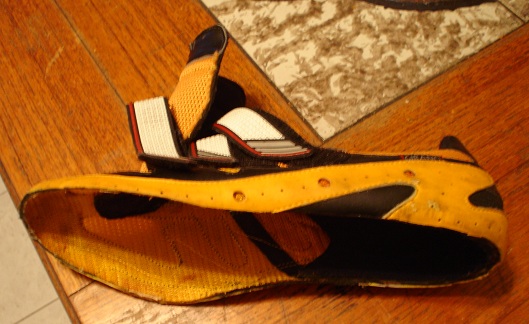 Step 2: I unlaced the Dunks and removed the insole. I replaced the insole with the hard plastic bottom from the Girano, taking note of where the slots were for the SPD cleats.
Step 3: I took the Girano insole out and then I used the cutter wheel to slice a rectangle out of the Dunk's outer sole.
Step 4: I put the Girano insole back in and used the drill to cut bolt holes in the sole of the dunk, using the Girano insole as a guide.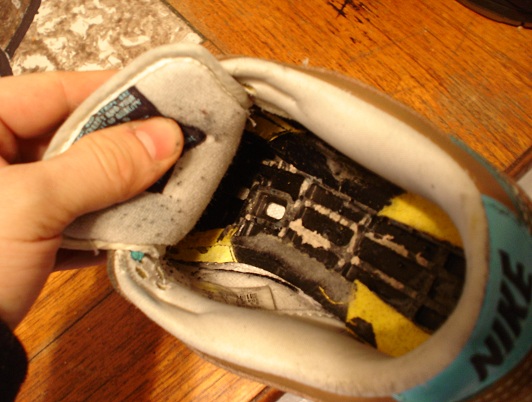 Step 5: I put the retaining boltplates into the Girano insole and then bolted the SPD cleats to the Dunk sole.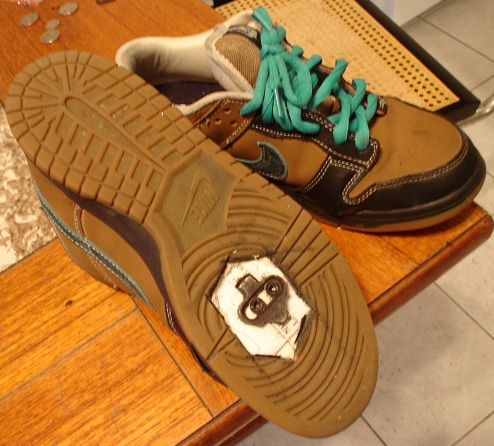 Step 6: I put the Girano insoles into the Dunks to cover over the hard plastic insole.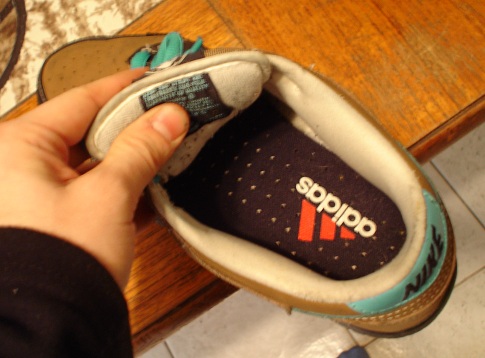 Results:
It works! I had to play with the positioning of the cleats a bit, but they lock in and unlock fine. They seem comfortable enough for walking around, although they are a little tight. This is because of the thickness of the Girano insole. I think this would work better had I used a shoe a half-size bigger than what I usually wear. Foot retention decent; I was able to skid without any worry of coming out of the shoe.
I'd like to try this again with a slightly larger shoe, and next time I will do the cutting outside – it smoked and stank something fierce! Now my apt. smells like burnt rubber. I had to wear goggles and a bandanna because the amount of  smoking hot rubber chunks that were going everywhere.
So far, they seem fine for walking around, and fine for casual cycling. and you can't tell they have cleats in them unless you see the soles.   Of course, I need to use them for a couple weeks to really know.  This first attempt was an experiment / proof of concept.  In a couple weeks I'll be ready for a round 2, with a pair of size 10's.   I'll try to document the process better that time, maybe make a video.  In the meantime, leave a comment to let me know if you think this is cool, and if you try this mashup yourself.