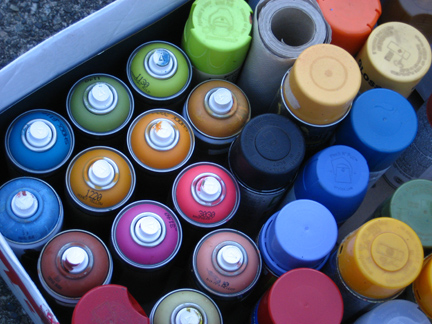 There's a couple tutorials on the web about how to go about painting a bike frame using spray paints. Since a powder coat often costs $150 or more, many people opt to head over to the hardware store and give their bike a D.I.Y. paint job. However, it often comes out looking cheap and ugly because they use budget paints or don't prepare the bike correctly first.
After discussing this with Lew Edinger of Memphis Bargain Bicycles, he was kind enough to re-write a tutorial I saw online to reflect his extensive experience painting bikes. Lew has carefully restored many vintage bikes and knows how to get a truly professional finish from paints and supplies you can get at any hardware store.  Check out this tutorial after the jump, as well as some pictures Lew sent me of the finished results.
Read the full tutorial after the jump…
Stuff You'll Need:
– Simple Green de-greaser
– Park Tools Polylube 1000 grease (for re-assembly of bike, available at your local bike shop)
– 220 grit Sandpaper
– Knifing putty (if you want to fix dents)
– painter's masking tape & scissors or razor blade
– strong coat hanger or other method of hanging the frame
– well-ventilated spray-paint area
– respirator mask (if you're inside) or at least a basic painter's face mask
– clean, dry rags
– painter's drop cloth or newspapers
– disposable rubber/silicone surgical gloves
– Dupli-Color Adhesion promoter clear primer (available at Auto Zone)
– automotive spray paint & clear coat (I recommend Dupli-color)
– Turtle Wax or White's mild rubbing compound
Instructions:
Make sure that you know exactly how to put back the bike when you take it apart. Take pictures and make notes. Be organized when taking your bike apart.
Clean the bearings and internal mechanisms as you remove them. You will have a more thorough job in greasing them when reassembling the bike.
Use a de-greaser all over the bike.
Use 220 grit sandpaper to smooth the old paint.  If your bike has a carbon frame, do not sand the carbon.
Repainting your bike is also a great opportunity to fix dents. Use knifing putty to fill in dents. Sand it down afterward.
Consider using matching touch-up to cover small nicks and scratches.
Sand after quick-dry, and wipe down with de-greaser.
Put on painter's tape on pieces that you don't want to be painted or should not be painted. These include the bottom brackets, the parts with the threads and the bolts themselves (but it is better to have them removed)..
Cut tape to size to fit over decals to be saved.
Use a de-greaser all over the bike (fingers leave oils behind.)
Use an old and sturdy coat hanger to hang your bike from the head tube where you have a 360 degree access to the bike. Hold frame with clean, dry rag in one hand while hanging.
Put on your protective gear.
Spray on  clear primer in thin, even coats, starting from the joints and the bottom bracket.
You should apply multiple thin coats instead of one thick coat.  Spray the project using thin multiple coats.  Cover thoroughly during each coat, but not heavily in any one place. Begin and finish each pass off the object to be sure to get the edges.  Release the button at the end of each pass.  Use a side to side motion and overlap your spray pattern by approximately one-third.
Once you're done with the primer, within ** 5 minutes follow with 2 color coats, then 3 clear coats… Carefully remove tape on decals before applying the clear coats.
** DO NOT ALLOW PAINT TO DRY BETWEEN LIGHT COATS. THERE'S NO NEED TO SAND BETWEEN COATS!  Properly applied, there will be no runs.
Let paint harden for at least a couple of days to a week, then wax..
Reassemble bike being careful not to unnecessarily touch or put finger pressure on the surface.
After the paint is cured for at least 30 days, rub out overspray with mild rubbing compound (I use White's), then wax again.
Here's some more tips from Lew:
I always try to paint the same color as original. Carry the fork to the store when buying paint in order to get the best possible match. If I'm repainting to a different color, I strip the frame to bare metal, sand it down and degrease before starting to paint, again without sanding or allowing the paint to dry between coats as outlined above.

Make sure paints of different brands are compatible with each other by comparing the chemical ingredients, do not mix lacquers with enamels.

Following my proven procedure of laying one coat on top of another avoids the problem of "lifting" the previous coat. Follow instructions on the can. If you somehow fail to keep painting withing the time allowed for the next coat, allow at least 7-10 days drying before attempting to proceed (the longer the better).
And here are some bikes he's painted: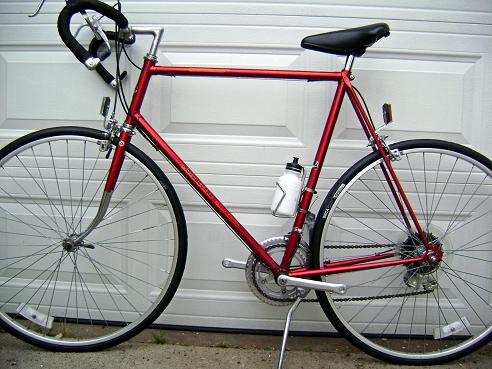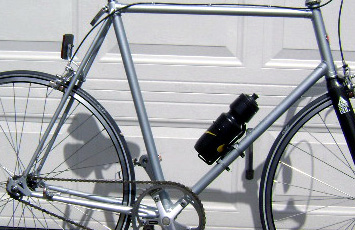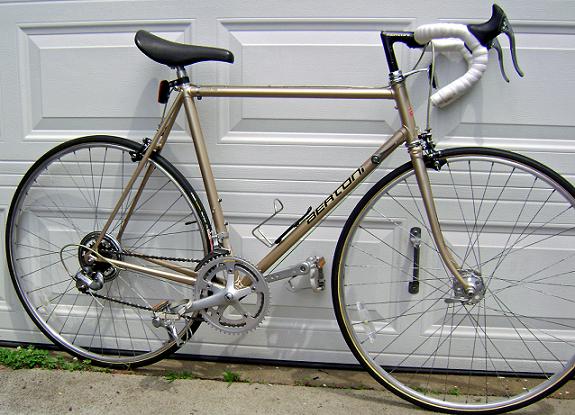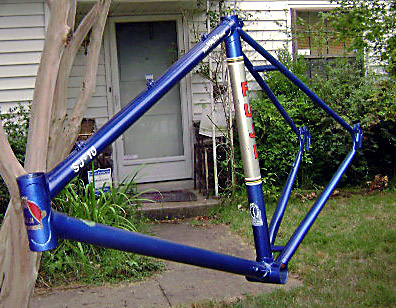 Thanks again to Lew for his help in putting this guide together.  As you can see, if you follow this tutorial carefully, you will get really impressive, professional results.  Like any craft, the secret is care, attention to detail, and patience!  It takes a week to do it right, but your bike will look as good as new.