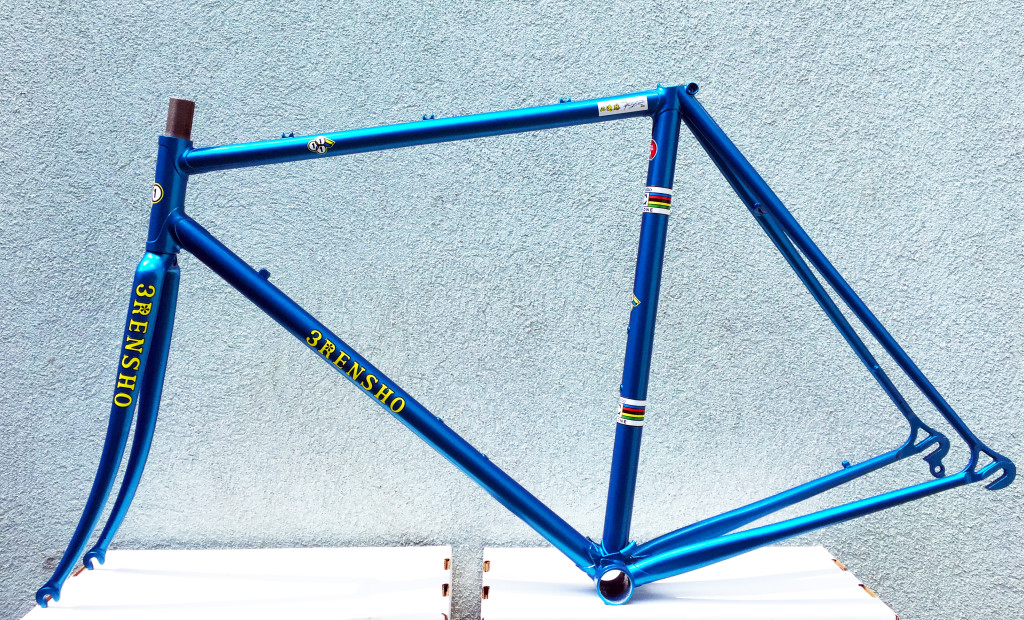 In 2014, I acquired two San Rensho (also written as 3Rensho; "san" is Japanese for "three") road frames.  One, pictured above, was a 53cm and the other 58cm.  While they came from different sources, they were both Super Record Export versions.  3Rensho, which translates to "triple victory," was a highly regarded bicycle manufacturer from Japan in the 1970's-90's.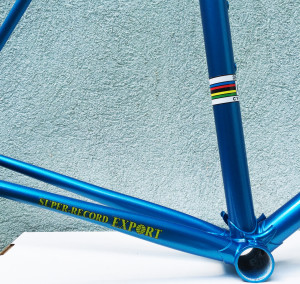 Founded by Yoshi Konno in 1974, 3Rensho bikes were made by a team of Konno, Koichi Yamaguchi, and Masahiko Makino.  While 3Rensho made both road and track bikes, they are most widely known for their track bikes which were custom made for Japan's Keirin racing sport.  Tragically, in 1995 Konno was responsible for a drunken car crash that killed five people and left him paralyzed from the neck down.  3Rensho closed down shortly thereafter.
Despite this ignoble end for one of Japan's most prestigious bicycle brands, Yamaguchi and Makino went on to great success building frames under their own names.  Yamaguchi has made frames for the U.S. Olympic Team, and continues to make custom frames as well as running his own frame building school in Colorado.  In addition, Cherubim Bicycles, founded by Yoshi's brother Hitoshi, continues to create amazing bicycles under his nephew Shinichi Konno.
Read more to learn about these frames and the restoration process!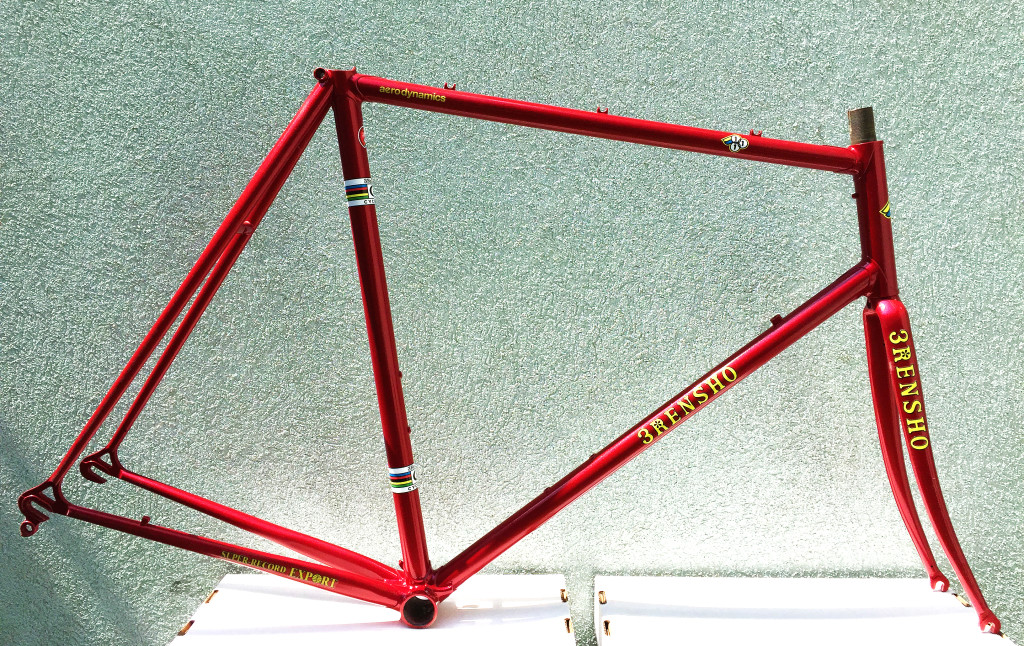 I'm guessing these particular 3Rensho frames were made in the mid-to-late 1980's as they feature oval "aero" seatstay tubes, smooth fork crowns, and a fairly rare down tube shifter mount style typically found on 80's aero road groups like Shimano's Dura Ace and 600 AX sets.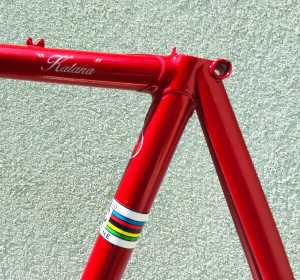 The seatstays meet at the seat tube lug in a style similar to the iconic Cinelli "fastback" style, although the seatpost binder bolt is positioned slightly above the stays as opposed to running directly through them.
While they are constructed with care and the lugs have been shaped and filed nicely, I think these were probably 2nd tier production frames as opposed to custom or top-tier models.  This is due to the lack of the distinctive 3Rensho "superends" which were their proprietary cast dropouts.  Instead, the blue frame has Campagnolo dropouts and the red one has Shimano.
When I originally acquired these frames, the smaller one had a pink paint job and the larger one was purple.  Both were quite worn, with many scratches and some rust as well.  I decided that I would completely restore the frames myself.  While I've painted at least a dozen frames and wrote a tutorial on the process, I'd never before tried to fully restore a vintage bike, complete with decals.
After documenting the original decals, I sandblasted both frames.  Then I laid down several coats of primer / filler from Duplicolor, finishing with a layer of white primer so the top color would appear brighter.  For the main coats, I used three cans of Duplicolor "Perfect Match" automotive spray paint on each, with Barcelona Red Metallic for the large frame and Blue Streak Metallic for the smaller one.  I let each frame cure for a week, then wet sanded any drips and touched them up.  Painting with spray cans is difficult because they have an unpredictable output and despite my best efforts, it's almost impossible to avoid drips.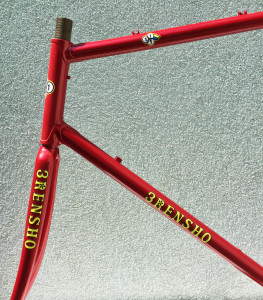 After the paint had cured an additional two weeks, I applied the decals.  I bought the decals from "Global Bicycle Decals," a UK-based seller on eBay.  These are reproduction decals printed on vinyl, and lack some of the quality of nicer water-slide decals, but are much easier to apply.
After applying the decals, I clear-coated the frames using two cans each of Rustoleum's automotive clear.  Again, because of the sub-par flow from spray cans, I had to wet-sand a few drips and re-apply a fresh coat of clear.  The end result, however, was gorgeous!  The metallic paint has a lovely sparkle to it, and the clear brings that out even more.
Overall, I'd say it took me 15-20 hours per frame to restore them, and about $180 each in paint supplies, decals, and sandblasting costs.  Financially cheaper than having a pro restore them, but when you factor in the time, well… let's just say it's not a good business plan.
Check out the gallery below to see hi-res photos of both frames.