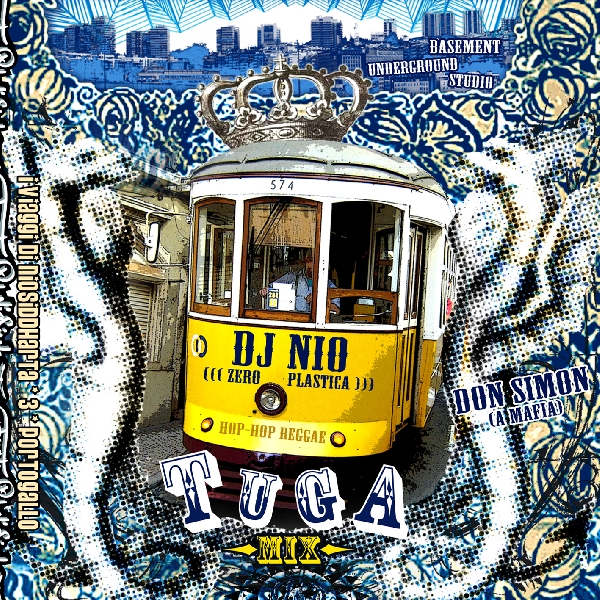 I thought I knew about Portuguese hiphop because I've done two mixes of Brazilian baile funk, but this mix, by DJ NioSiddartha of Italy's Zero Plastica crew schooled me to a whole new sound.  It's jazzy, funky, and refreshing; you can hear the golden age influences in a number of tracks that have a distinct "Primo" style to them.  While I don't know what they're saying, the featured emcees all have an arresting flow, whether it's in Portuguese, Italian, or even Wolof.
Here's some more details that I lifted their press release:
Tuga Mix are 80 minutes of pure music selected by Dj Nio, more than 40 cuts from the classic to the experimental rap, from original reggae roots to the dancehall hits. The mixtape is hosted by the Italian-Brasilian mc Don Simon, of the famous rap group A Mafia (of Sao Paulo). Special guests appearence by Lure, that together with Nio forms Zero Plastica, one of the most interesting groups in Genoa (Italy): "Non è Hip-Hop" ("It's not Hip-Hop") it's a new revolutionary, thought-provoking song on a deadly beat by Fuse (Daelema), the Portughese master of hardcore rap. Plus, even Dudu of the Senegalese rap group Janta-B – now living in Italy and singing with Ohimemì- drops a Wollof joint with his aggressive style. Tuga mix officially starts the collabo between Dj Nio and the American indipendent label Nomadic Wax, specialized in Hip-Hop and underground music from around the globe.
Listen now: [audio:http://www.djcatnap.com/myoozick/Dj-Nio_Tuga-mix_Portughese_Hip-Hop_MIXTAPE.mp3]
Audio clip: Adobe Flash Player (version 9 or above) is required to play this audio clip. Download the latest version here. You also need to have JavaScript enabled in your browser.
Tracklist after the jump…