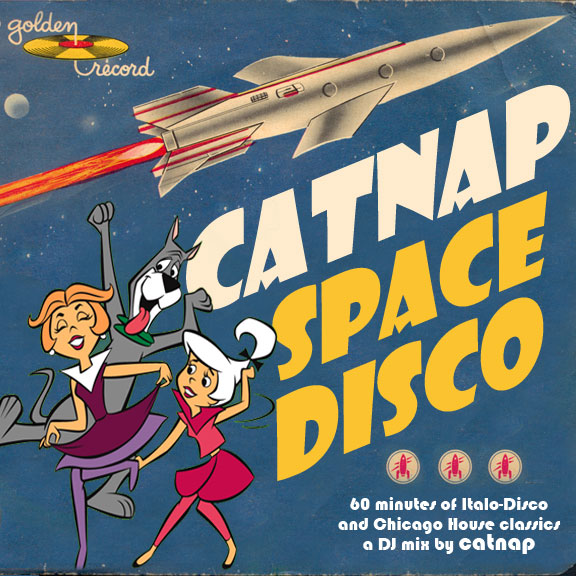 Here is the latest Catnap mixtape, "Space Disco." It's an hour-long mix of electronic dance music from the late 1970's and early-mid 1980's, with two modern hits thrown in to round it out. I got the idea for this after listening to some Italo-disco over the winter and realizing how heavily it has influenced a lot of the popular sounds in dance music right now. The whole indie synth-pop craze, as well as the electrohouse and electroclash scenes owe their existence to these pioneering tracks. Featured artists include Giorgio Moroder, Cerrone, Telex, Fun Fun, Koto, Paul Hardcastle, and more.
Listen here:
[audio:http://djcatnap.com/myoozick/Catnap-Space_Disco.mp3]
Download here:
Audio clip: Adobe Flash Player (version 9 or above) is required to play this audio clip. Download the latest version here. You also need to have JavaScript enabled in your browser.
right click and "save as"
111mb mp3 //// 60min 47sec /// 256kbps 44khz
Click here for more info & tracklisting:
This one took me almost a month to compile and mix, thanks to the blazing synths, harmonics, and retro drum programming. I was helped a lot by a new program I just got, called Mixed In Key. It tells you the key of a song, which makes it easier to then harmonically mix it with another song. I already mix this way, but not having to discern the key by ear was nice. Anyway, check out this mix – you'll dig the groovy sounds and get educated on the influences behind a lot of today's dancefloor hits in the process.