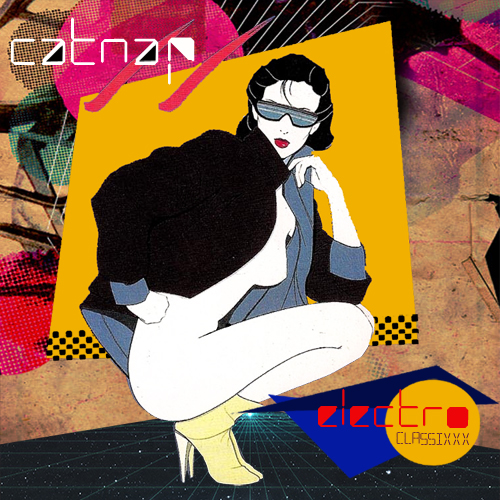 I'm back with another DJ mix – this time it's all about the 80's!  Electro Classixxx is a non-stop megamix of 34 of the best electro jams from 1980-84, and is a great introduction to this massively influential genre.  According to British DJ and music historian Greg Wilson,
Electro is the missing link of Dance music. All roads lead back to New York where the level of musical innovation and experimentation throughout the early 80s period was quite staggering. It wasn't one narrow style that never strayed from within the confides of an even narrower BPM range, Electro-Funk was anything goes! The diversity of records released during this period was what made it so magical, you never knew what was coming next. The tempo of these tracks ranged from under 100 bpm to over 130, covering an entire rhythmic spectrum along the way.

There was no set template for this new Dance direction, it just went wherever it went and took you grooving along with it. It was all about stretching the boundaries that had begun to stifle black music, and its influences lay not only with German Technopop wizards Kraftwerk, the acknowledged forefathers of pure Electro, plus British Futurist acts like the Human League and Gary Numan, but also with a number of pioneering black musicians. Major artists like Miles Davis, Sly Stone, Herbie Hancock, Stevie Wonder, legendary producer Norman Whitfield and, of course, George Clinton and his P Funk brigade, would all play their part in shaping this new sound via their innovative use of electronic instruments during the 70s (and as early as the late 60s in Miles Davis' case). Once the next generation of black musicians finally got their hands on the available technology it was bound to lead to a musical revolution as they ripped up the rule book with their twisted Funk.
Listen Now:
Audio clip: Adobe Flash Player (version 9 or above) is required to play this audio clip. Download the latest version here. You also need to have JavaScript enabled in your browser.
Download here (right click and "save as")
time – 65:06  /// 149mb /// 320 kbps .mp3
Track List after the jump…
01. Grandmaster D.ST – Herbie Hancock MegaMix
02. Sparky Dee vs. The Playgirls – The Battle
03. Roxanne Shante – Queen of Rox
04. The Fat Boys – The Fat Boys Are Back
05. Jalaluddin M. Nuriddin & D.ST – Mean Machine
06. Bad Boys ft. K Love – Bad Boys
07. Rock Master Scott – The Roof Is On Fire
08. Captain Rock – Captain Rock To The Future Shock
09. Time Zone – Wild Style
10. Jonzun Crew – Pak Man
11. Newcleus – Space Is The Place
12. Egyptian Lover – Party
13. Planet Patrol – Didn't Know I Loved You
14. Unknown DJ – 808 Beats
15. The Dogs ft. Disco Rick – Ya Mama's On Crack Rock
16. Divine Sounds – Dollar Bill
17. Anquette – Get Off Your Ass And Jam
18. West Street Mob – Break Dancin' Electric Boogie
19. Ice T & Chris "The Glove" Taylor – Reckless
20. The Invisibles – Donkey Kong
21. The Fearless Four – Just Rock
22. G. Force & The Crew – Feel The Force
23. Man Parrish – Boogie Down (Bronx Version)
24. C.O.D. – In The Bottle
25. Tyrone Brunson – The Smurf
26. Autumn – Computer Touch
27. Ready For The World – Digital Display
28. Lisa Lisa & The Cult Jam – I Wonder If I Take You Home
29. Kraftwerk – The Telephone Call
30. Kraftwerk – Numbers (Live in San Francisco)
31. Kraftwerk – Tour De France
32. Twilight 22 – Electric Kingdom
33. Project Future – Ray-Gun-Omics
34. D.E.F. – Def Momentum