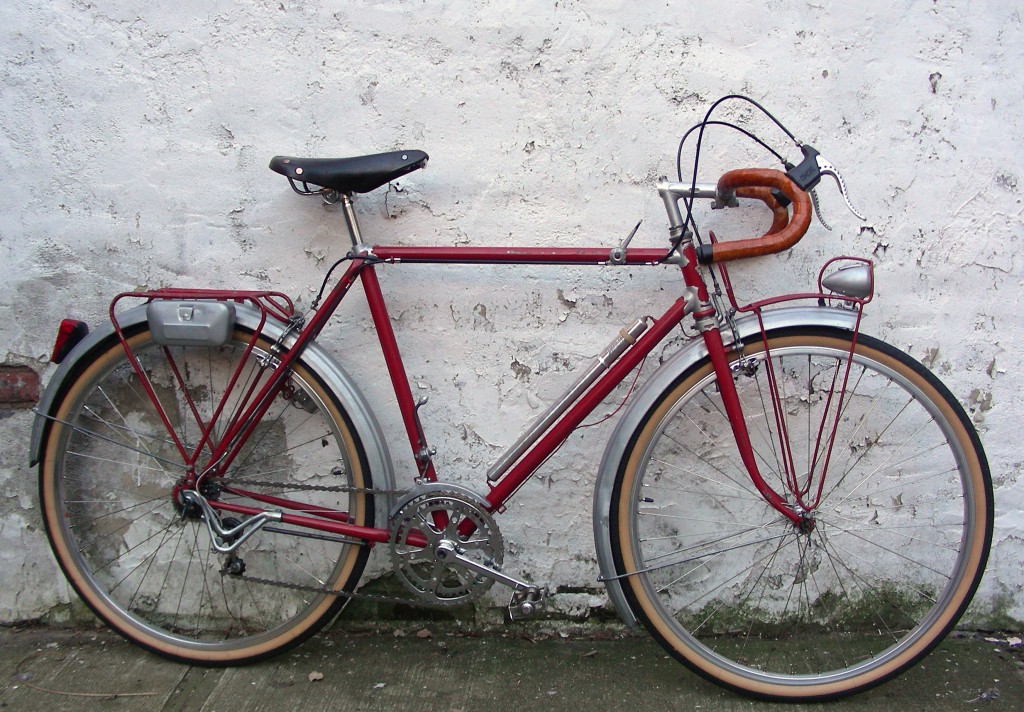 I recently finished restoring this classic French randonneur bicycle, a Mercier from the early 1950's. It's equipped with 650B wheels and a number of rare components only seen on French bicycles of the 1940's – 50's.
I acquired the bike from a French seller on eBay, and comprehensively restored it to the original drivetrain, while also making period-correct tweaks to the wheels, handlebars, and saddle to make it more comfortable to ride. Read on to learn all about it!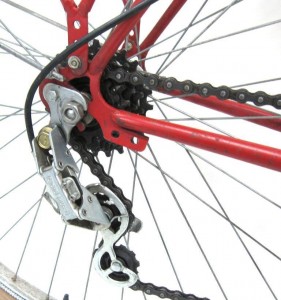 This is a close-up of the original configuration of the rear drive-side drop-out. The bike had a 70's-era Sachs Huret Eco derailleur mounted on it. Note the tab with two holes in it slightly forward of the dropout – that's the correct mounting point for a derailleur.
This type of derailleur is called a "chainstay mount" for obvious reasons, and can typically handle 3-4 speeds. Taking over from the more eccentric designs of the 1930's and 40's like the Cambio Corsa or Osgear, chainstay-mounted derailleurs were the most common type of derailleur until the mid-to-late 1950's, although still a minority when compared to the numbers of internally geared 2 and 3-speed hubs by Sturmey Archer and Sachs in the same period.
They were manufactured by a number of different companies, but the most popular were Simplex, Huret, and Cyclo. Their designs typically utilized either push-rod or pull-chain to move the derailleur cage horizontally across the gears.
The rear derailleur is a Simplex Route Leger, one of the most iconic designs of this style. It's partially obscured by the protector I installed over it, a neat art-nouveau-esque piece I found. Derailleur cage tension was achieved through an external spring that hooked from a mount on the chainstay near the bottom bracket to the top of the cage, which can be seen here: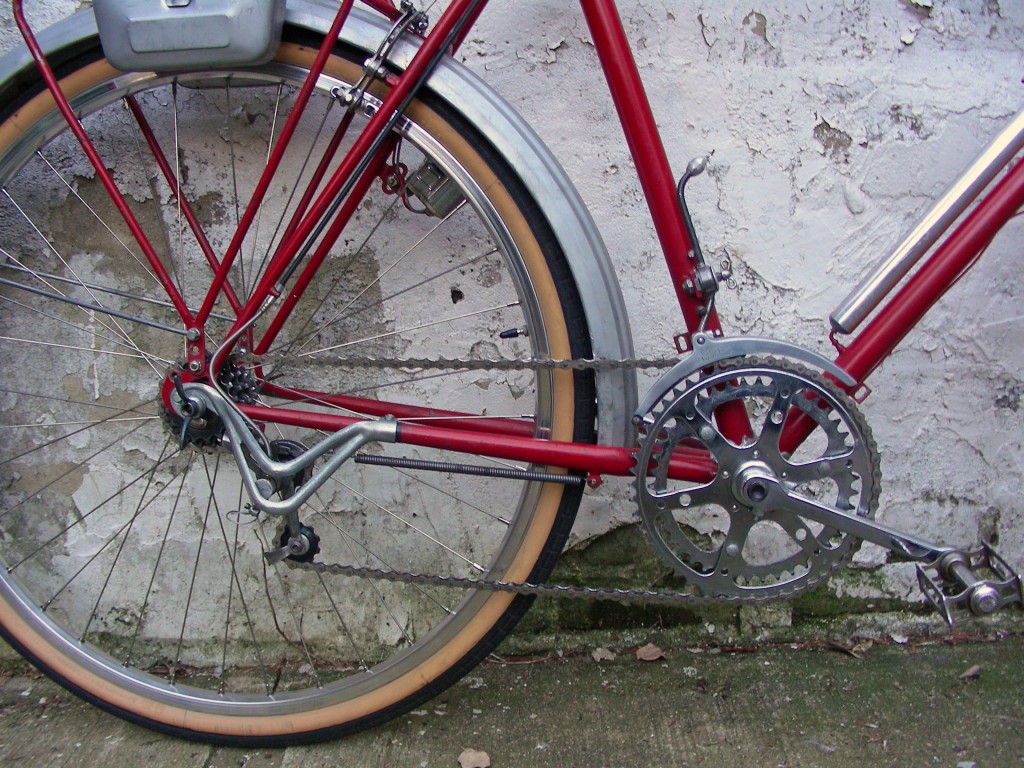 In the photo above, you can also see the front derailleur, a Simplex Competition model with a rare extra-large cage that doubles as a chain guard. Sometimes referred to as a "suicide" derailleur, it's actually quite easy to use. The rider reaches down and gently pushes the rod inwards or outwards to change gear. The crankset is a no-name 50.4 style with 50 & 42-tooth chainrings. The pedals shown are Lyotard models, but I will be replacing them with rare Sanzax pedals soon.
The original wheelset was a set of rusty Rigida chrome rims laced to Maillard hubs, but I don't think they were original to the bike, since the rear hub was spaced to 120mm O.L.D. while the actual rear spacing of this bike was 114mm. I found a period-correct set of Liberia hubs, and laced them to brand new Velo-Orange "Diagonale" rims, and added a 4-speed Atom freewheel with 16/18/20/22 speeds. The tires are new Panaracer "Col De La Vie" 650B x 38mm.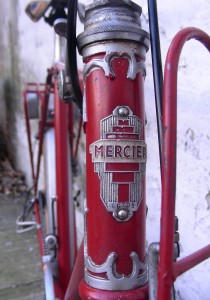 Other cool parts of this bike are the Jeay brakes, a sort of early cantilever / centerpull design that was revisited thirty years later by SunTour with their "roller-cam" brakes. The saddle is an Ideale 92 "Daniel Rebour" model, with matching saddle clamp, and the pump is a vintage Solibloc.
The fenders and racks are original, with cool little tin boxes on the rear rack for tools. The front light looks to be JOS "radios" type, but I haven't yet had the chance to fix the generator and lighting.
Overall, the bike rides very smoothly and shifts gears well. I might put a set of upright bars on it soon, but otherwise I think it's finished for now. As an introduction to these mysterious and eccentric, but very beautiful breed of classic French bicycles, I think it was perfect. I'm hooked on them now, and already planning more restoration projects for the future.
Check out the gallery below: