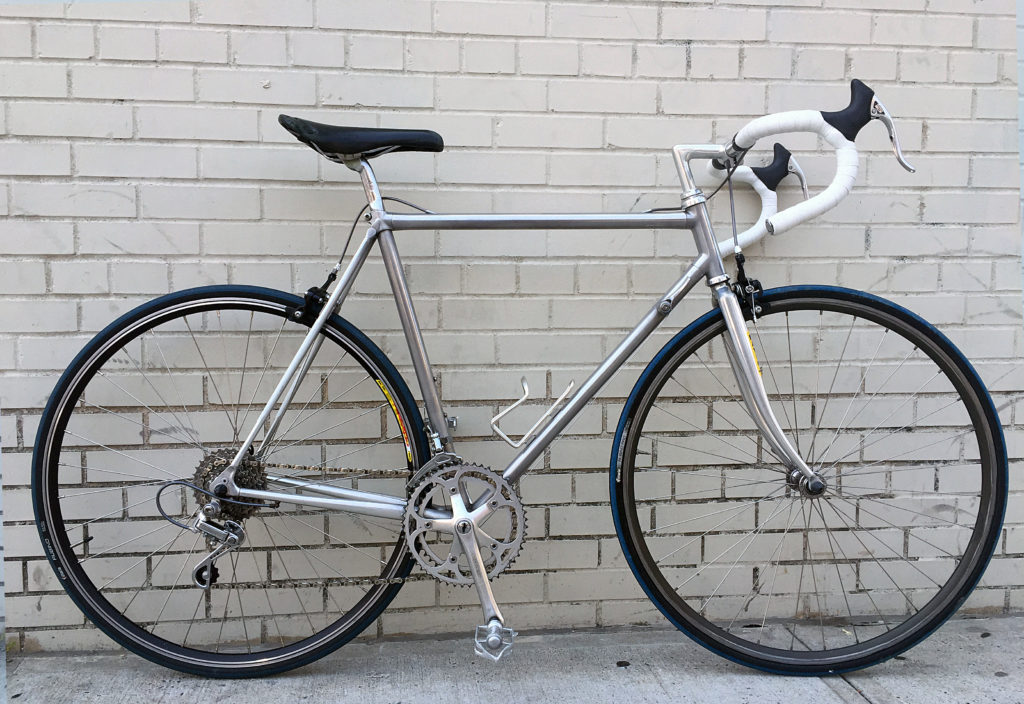 It's been a while since I've updated the ol' blog, and a whole bunch of bikes have passed through my workshop since last fall.  First up is this gorgeous Vitus 979.  This particular example was purchased "new old stock" about ten years ago from the back stock of a Manhattan bike shop. The logos and paint have been professionally removed to expose the beautiful raw silver of the underlying aluminum, which I hand-polished to a nice shine.
Read on to learn more about the Vitus 979!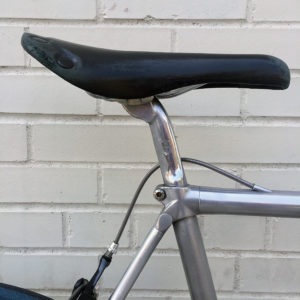 The 979 was born of a joint venture between French companies Ateliers de la Rive and Angenieux-CLB.  The first Vitus-branded Vitus 979 Duralinox frames of 5083 aluminum-magnesium alloy tubing and lugs were developed in 1978 and introduced in the Spring of 1979. 
Ateliers de la Rive designed and produced the 979 Duralinox tube sets, forks, head tubes and rear triangle stays, and Angenieux-CLB produced the cast alloy internal slip-fit lugs, bottom bracket, fork crown, drop-outs and rear brake bridges.  The tubes were fit into the lugs and bonded in place using a dry heat-activated epoxy.
Vitus claimed that bonding the tubes had no influence on the properties of the aluminum, as opposed to heat-based methods like welding or brazing. It also claimed a "degree of shock absorbing elasticity" and said its frame was 30 per cent lighter than its equivalent in steel. 
US Patent 4,479,662
5
for the Vitus 979 by inventors Paule Defour and Antoine Dumas goes into great detail on the process.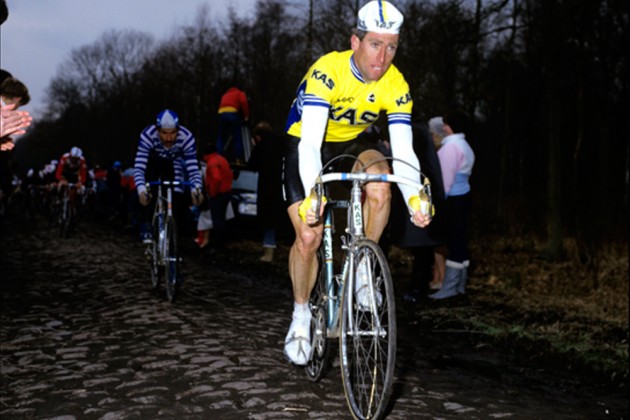 Perhaps the most famous cyclist associated with the Vitus 979 was Sean Kelly (pictured above on a KAS team Vitus 979), who rode it to multiple victories in the Paris Roubaix and several green jerseys in the Tour de France.  While today's aluminum bikes are typically associated with a very stiff ride, the bonded construction of the Vitus gives it a more pliable ride that turned out to be ideal for the rough cobblestone roads that Kelly excelled at racing on.
A Vitus brochure on the Bicycle Info Project lists five colors: black, red, royal blue, grey-blue, and silver.  It has also been spotted in purple, gold and rose.  These colors were not painted on, but anodized directly onto the aluminum tubing.  The lugs were typically left silver and polished to a bright shine.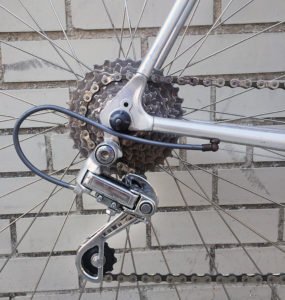 This particular Vitus 979 has a Campagnolo headset and seatpost, and a Shimano Z-Series group set with retro-friction style shifting. It is equipped with a long-cage rear derailleur and an 8-speed cassette for easy hill climbing. The crank set is by Stronglight, with MKS pedals.
The brakes are modern Shimano for superior braking ability. Stem is by NITTO, with 3TTT Criterium handlebars. The 700C wheelset has Shimano hubs, Mavic rims, and Vittoria tires. All shift & brake cables and housing are new, as is the chain and rear cassette. The saddle is a leather Avenir "Classic Series" similar to the San Marco Regal.
It's currently up for sale, although I do wish I could keep it!  I've always had a soft spot for silver bikes, and the Vitus 979 is one fast bike.  Check out the gallery below for more pictures: