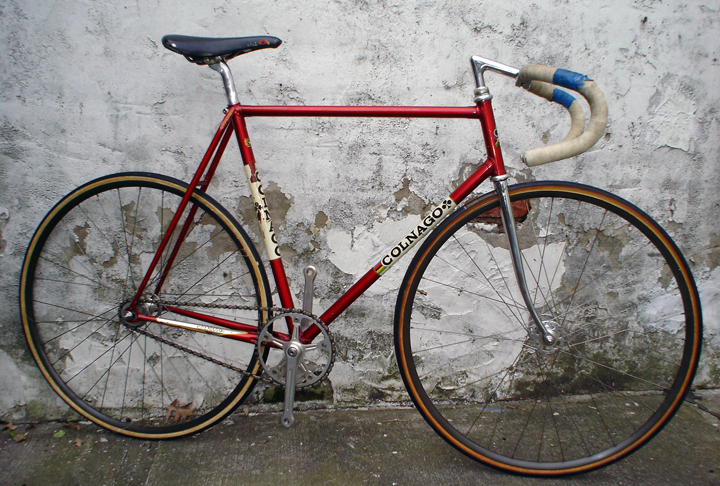 Scoooooooooooooore!  Scooped this beautiful Colnago Super Pista from a gentleman up in Harlem yesterday.  I'm still unsure of the exact year and model, but I believe it to be a late 70's – early 80's Super Pista, probably one of the Colnago Mexico series.  It has a Campagnolo C-Record gruppo; 165mm Pista crankset, hubs, headset, seatpost, and bars.   Rims are Mavic sew-ups with Wolber tubular tires.
Overall the bike is very clean considering its age and the fact that the previous owner rode it often.  My only complaint is that some dummy drilled the fork for a brake (arrgh!).   I am planning on giving it a complete disassembly, cleaning, polishing, and lubing.   And some fresh bar tape, of course.   The stem is a Nitto Jaguar that I will probably replace with a period-correct 3TTT Colnago pantographed stem, and I plan swapping the saddle for an official vintage Colnago one, and maybe even splurging on some vintage C-Record track pedals.  This is a truly rare bike and I'm kind of in awe of it.   It will likely take me a few weeks (maybe months) before I accumulate all the correct parts, but I can't wait to post the "after" pics when I'm done.
Check out more photos after the jump!