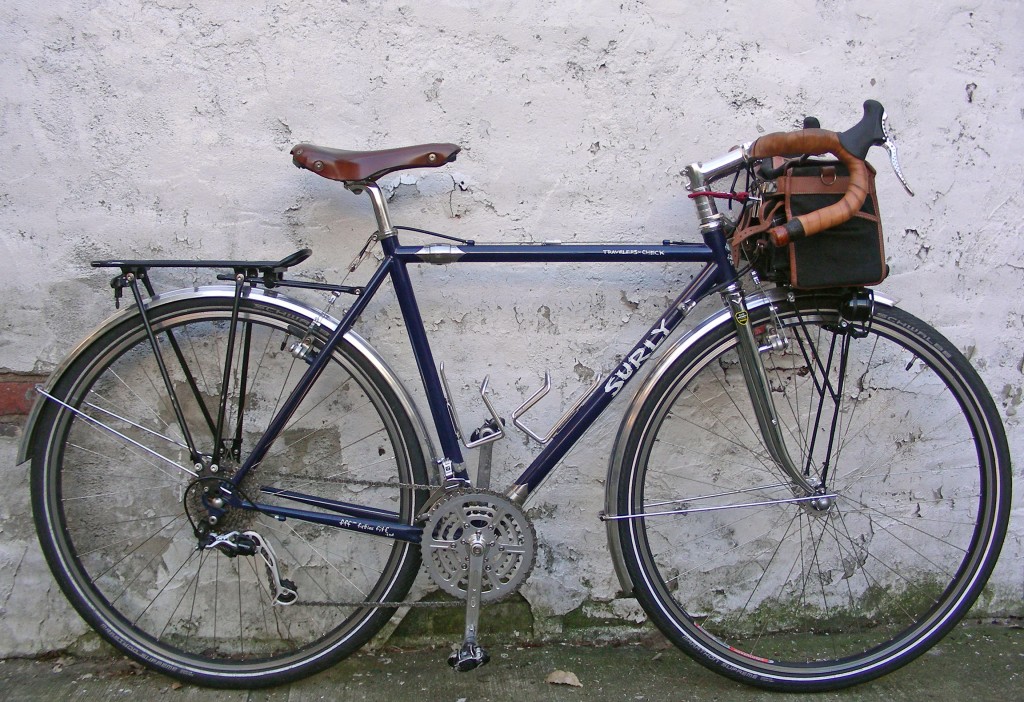 This is the Surly Traveler's Check that I built up as a touring bike to replace the Surly Long Haul Trucker I was using as my previous touring bike. I wanted to see if a 700c-wheeled tourer would feel "faster" and would also be a better all-purpose bike. The Traveler's Check is a version of the Surly Cross Check that has S&S couplers that allow you to dismantle the bike and pack it into a small bag for airline and train travel.
The Traveler's Check build is a combination of parts I was using on the Long Haul Trucker along with improvements based on lessons learned. It's all come together into a very handsome package that rides wonderfully.
Read on for more details and pictures!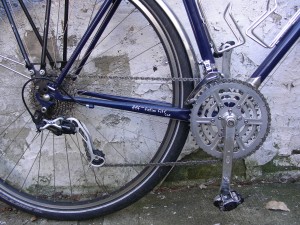 The drive train is a mix of old and new: a modern Deore XT M772 rear derailleur and an 80's vintage Deore XT M700 "Deerhead" front derailleur. Originally I had planned to use vintage M700 derailleurs for front and back, but I learned the hard way that they do not have the capacity to handle a modern nine-speed 11-34 cassette. I'm using a set of Suntour "Command" shifters set up for friction shifting, and they work well.
The crank set is a Velo-Orange Grand Cru 50.4BCD, a copy of the classic Stronglight 49D. It works well but is tricky to set up. I had to put two spacers in the drive-side bottom bracket to get the offset right, and precisely adjust the limit screws on the front derailleur to make sure it doesn't hit the crank arm. My other complaint is that the shiny finish wore off the crank arms in less than month. All-in-all, it's affordable and has some good improvements over the vintage TA and Stronglight models, but I hope they improve the finish on their latest version.
I laced the wheels myself, a Deore LX rear hub and a Shutter Precision PV-8 generator front hub to Alex Adventurer rims. Those rims are great for an affordable, strong touring wheelset. Schwalbe Marathon 40mm tires and Velo-Orange 52mm Zeppelin fenders allow the bike to handle any weather or road surface.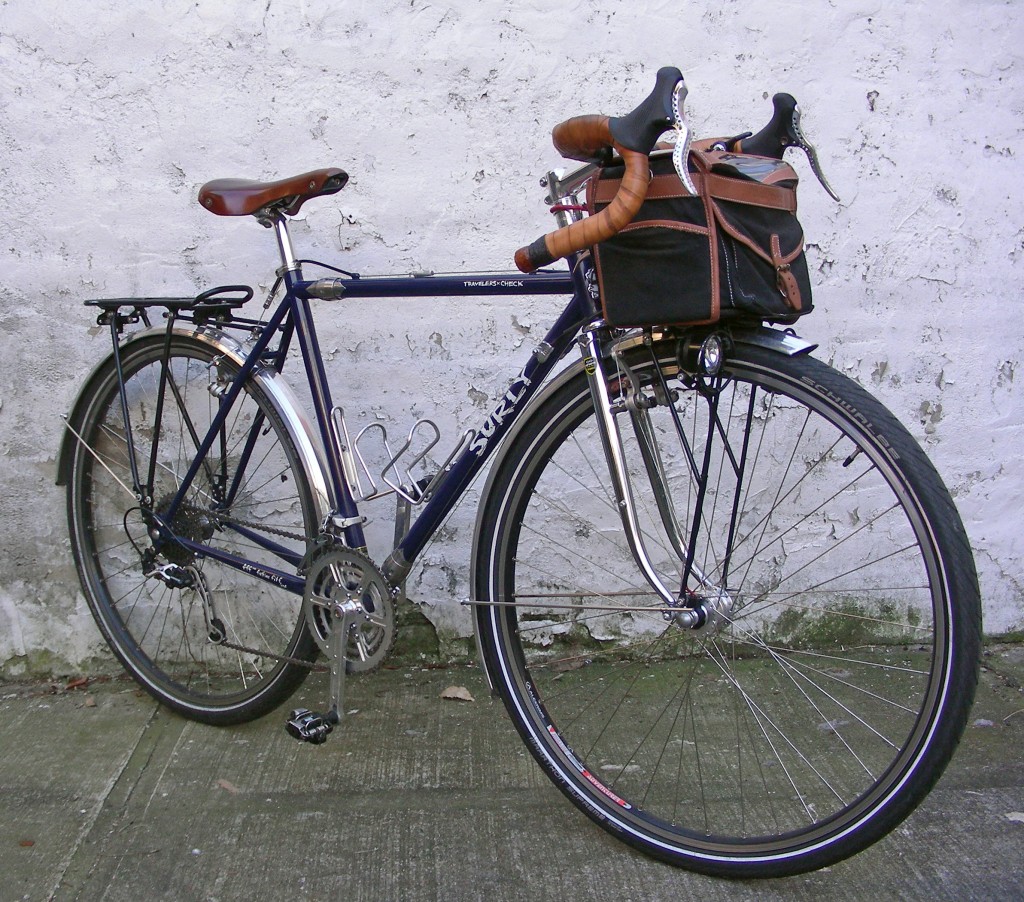 Up front, I replaced the stock fork with a Soma "Classic Curve" cyclocross fork. It has mid-fork rack-mounts, something the stock Surly fork is missing. I used the same custom front rack from the LHT, but upgraded the lighting with a pair of Schmidt Edelux headlights. They are incredibly bright and help me feel more confident riding in the dark. The PV-8 generator is superior to the Schmidt SON classic I was using on the LHT, being smaller, lighter, and about $100 cheaper.
Other hold-overs from the LHT are the TRP RRL-SR brake levers, Paul touring cantilever brakes, and the Gilles Berthoud Aravis touring saddle. Both the front rack and the rear (a Racktime Foldit) can be completely disassembled and packed flat. I kept the whole build modular, including the lighting, so that packing and un-packing the bike for travel only takes about 45 minutes.
I've taken this bike on one long tour so far (Pittsburgh to Washington DC via the GAP Trail and C&O path) and I'm looking forward to more. Compared to the LHT, it's a bit twitchier when fully loaded, given the tighter geometry and taller wheels. The front wheel also has a bit of toe overlap, not ideal but not a big issue. I would like to see how it compares to a 650B touring bike, though… which I am currently building, so I guess I'll see!
Check out the gallery of photos below: