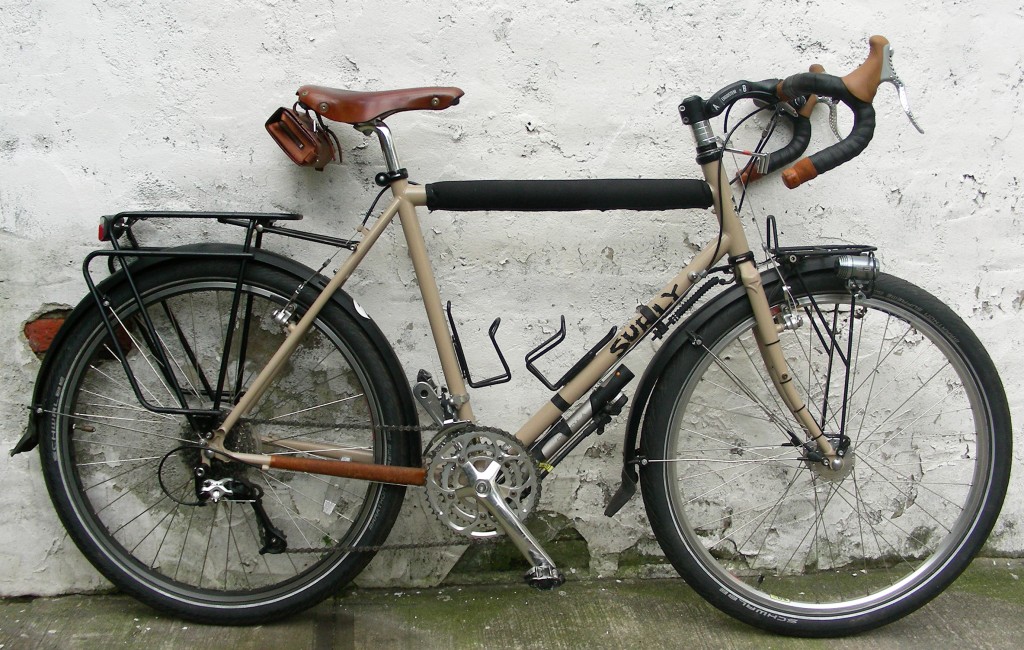 The Surly Long Haul Trucker is considered one of the best modern, non-custom touring bicycles on the market these days.  Introduced in 2004, it quickly became the "go-to" bike for riders looking for a reliable, no-nonsense machine for long, multi-day travels.  It can also do double duty as a solid commuter or errand-runner around town, perfect for hauling camping gear or groceries.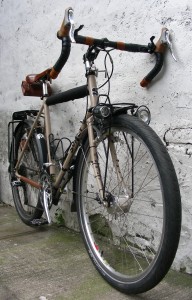 This one is a 2009 model in their beige "Truckaccino" color, size 52 with 26″ wheels.  I scored it off of Craigslist from a guy who won it in a radio contest and then never rode it.  It came stock with a set of Ortlieb panniers and Blackburn racks.  Since I've never been one to leave a stock build alone, I changed almost all of the components out.
Highlights of the build include a Gilles Berthoud "Aspin" touring saddle, Schmidt SON28 Classic generator hub with Supernova E3 light, BioLogic Reecharge system for the iPhone 4,  Schwalbe Marathon  tires, Deore XT derailleurs, Suntour Command shifters, Tubus racks, and a LOOK ErgoStem.  More details and picture gallery after the jump…
First, the cockpit: I kept the original handlebars, which I could find very little info about.  Made by a Taiwanese company called "PMT," they were apparently only offered with the 2009 Long Haul Truckers.  They have shallow ramps and drops, which look a bit weird but actually work well for the upright fit of the LHT.
The aero brake levers are the equally weird-but-comfortable TRP / Tektro RRL-SR levers.  Debuting last year, these brakes have the large, hand-filling feel of modern brifters while giving a nod to cycling history with their tan hoods and drilled levers.  The curves in the levers make it easier to get a good grip on them whether you're on the hoods or in the drops.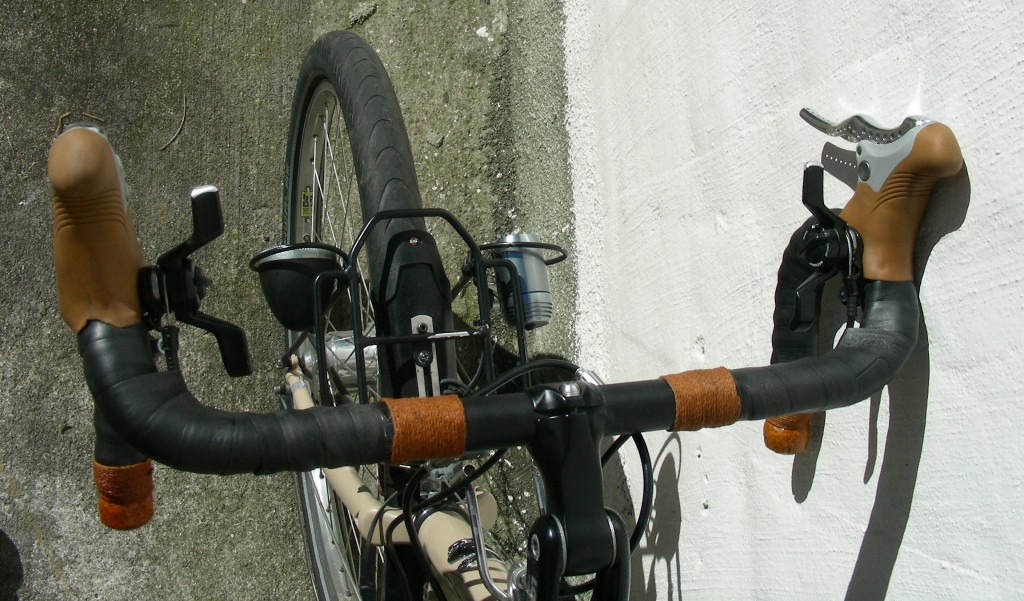 Originally, I built this bike with Rivendell / Dia-Compe "silver shifter" bar-ends, which are modern copies of the Suntour ratcheting friction shifters.  They worked well and looked elegant, however, I found that I often bumped into them when walking or parking the bike, which would lead to unintentional gear shifts.
Recently, I changed them out for vintage Suntour "Command" shifters, shown above.  They are customized to reduce the size of the levers a bit, and I find them much more convenient than bar-end shifters.  As with brifters, it's nice to keep my hands on the hoods when shifting.  They are made for 7-speed index shifting, but I modified them for friction shifting and they handle the 3×9 drivetrain with ease.  The LOOK ErgoStem was chosen to dial in the perfect fit for the bike, and I can adjust it on the road in case I feel like sitting up higher.  The cockpit is finished off with Brooks leather bar tape (with gel pads underneath) and hemp twine.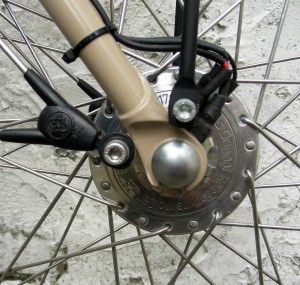 The front wheel sports a Schmidt SON28 Classic generator hub, which provides power for both the lights on the bike, as well as a continuous charge for my iPhone 4.  While I don't have pictures of it in action, I used the BioLogic Reecharge power pack and iPhone case on tour.  It was able to continually charge my phone as I rode, allowing me to listen to music and navigate using Google Maps, the MapMyRipe iPhone app, and GPS without worrying about running out of battery.
The charger and the lights cannot work simultaneously, but since I did not do much touring at night, it wasn't an issue.  Also, the bright iPhone screen is not good for your night vision.  The primary headlight is a Supernova E3 Pro, with a B&M Toplight Line Plus in back.  Both have a "stand light" feature that keeps the light on for 5 minutes after you stop riding.  A useful feature, but also one that causes people to chase after me to say "you left your lights on!" after I park the bike.
The Schwalbe Marathon Dureme tires are two inches wide, giving a cushy ride that is great both on- and off-road.  I have ridden this bike on some pretty gnarly trails, and while it's no mountain bike, it'll take you anywhere you'd want to go on a tour.
As a fan of Brooks leather saddles, I was initially skeptical of their French competitors at Gilles Berthoud; I've ridden other leather saddles before and they are all painfully (literally) inferior.  The Berthoud, at $300, is no copy however – it is indeed a step up from a Brooks.  It has a lighter plastic inner body, and instead of rivets it had removable hex screws.  This allows you to replace the leather shell easily, although given the thick, high-quality hide used, I don't imagine it would need to be replaced for decades.  The Aspin, their touring model, has a wide flare at the back and is quite comfortable.  Like a Brooks saddle, it needs at least 500 miles before it breaks in, so don't expect a soft ride right out of the box.
Overall, the Long Haul Trucker lives up to its reputation in every respect.  My only gripe is that it handles like a Humvee, but that's to be expected.  If anything, it handles even better when carrying a heavy load.  I added a Velo-Orange stabilizer spring to the front wheel, which prevents side-to-side flop when front-loaded.  I would recommend this bike to anyone looking for do-it-all tourer, commuter, and cargo bicycle.  Check out the hi-res picture gallery below: