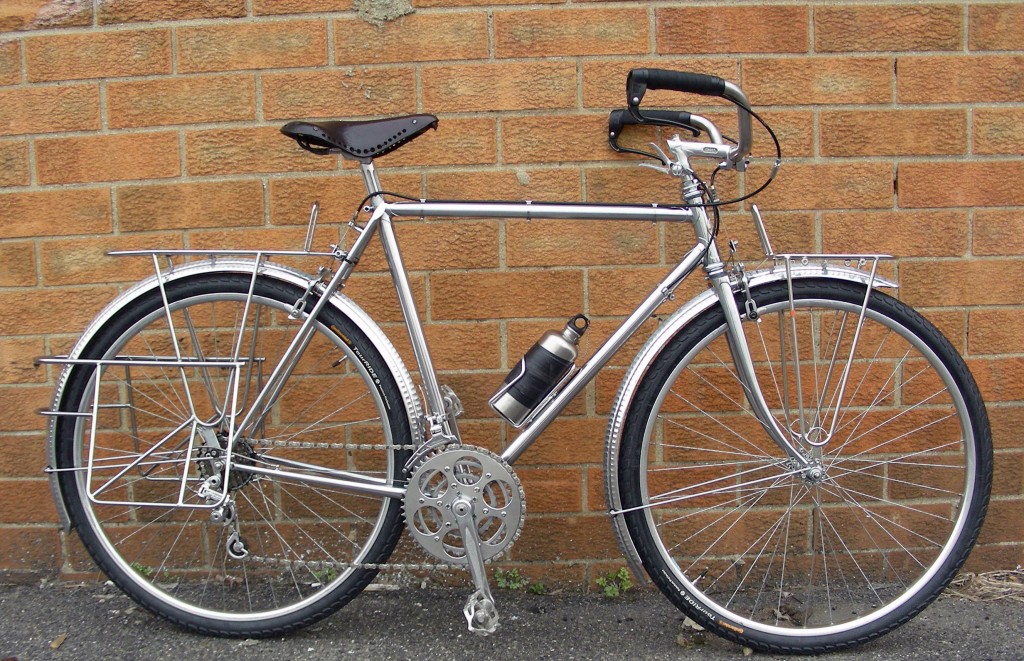 This bike was a Centurion Pro Tour originally, a high-quality Japanese-made touring bike from 1978. One of Centurion's top-of-the-line models, the Pro Tour had some cool features rarely seen on a production bike: brazed-on centerpull brake calipers and a fully chromed frame. Later iterations of the Pro Tour (from 1980-1984) had more common cantilever brakes, making the early editions quite rare.
I won this Pro Tour on eBay recently, and it arrived in fairly dismal condition. The paint had numerous scratches and rust, and the parts were a haphazard mix of original components and later replacements. I decided to strip the paint off to reveal the original chrome underneath, and while I was at it, to convert the bike to 650B wheels instead of using the original 27" ones that came with it. I also made many more changes and additions – read on to learn more…
First off, the removal of the paint. I read a number of tutorials online and bought Kleanstrip aircraft stripper. It's an aerosol spray-on stripper that's supposed to work in 15 minutes. NOPE. It removed some paint, but much of it stayed on. The next day I bought a can of Rock Miracle, a jellied-liquid stripper that you paint on with a brush. WOW! This stuff began working the minute I applied it to the paint.
Keep in mind, however – these are nasty chemicals! I worked outdoors and wore a face mask, goggles, and rubber gloves. I got a tiny speck of the Rock Miracle stripper on my bare skin and it immediately started burning me. I had to stop and carefully wash up before returning to the job. The paint melted off easily and I completed the job in about two hours.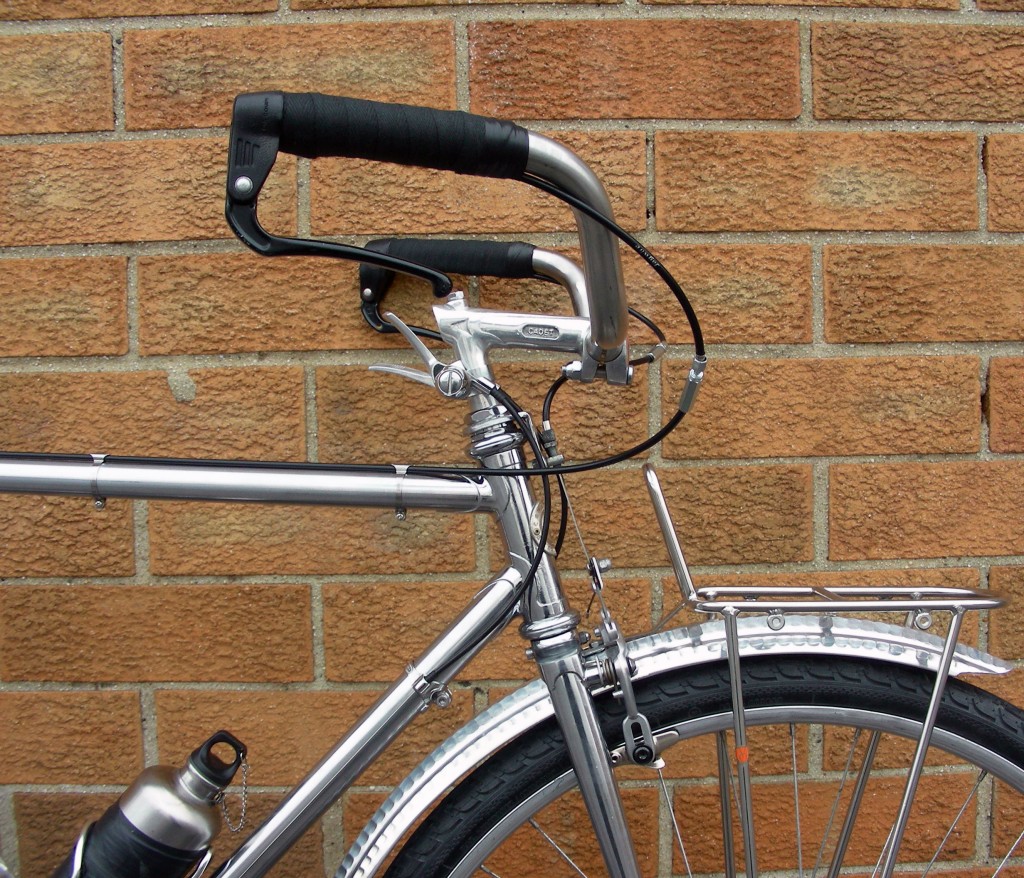 Once the frame was clean, I gave it a good wipe down with Simple Green and polished the chrome with Simi-Chrome polish. While I was stripping the paint, I kept the headset and other clamp-on bits in a bowl filled with Evapo-Rust. This is another chemical that I highly recommend. It's completely non-toxic and has no odor so you can use it inside. It does a great job of removing rust from metal, better so far than my experiments with oxalic acid. The only downside is that you need to be patient – you get the best results when the parts soak overnight.
With all the parts cleaned and polished, I began assembling the bike. I kept the original SunTour Cyclone derailleurs, but swapped out the original SR Apex 5 crank for one I made using Nervar 631 crank arms and 50.4 BCD chainrings from a Viscount. Halfway through the build I decided to use upright "porteur" style bars, and so instead of using the SunTour bar-end shifters it came with, I put on a set of Shimano SL-A400 "Light Action" stem shifters.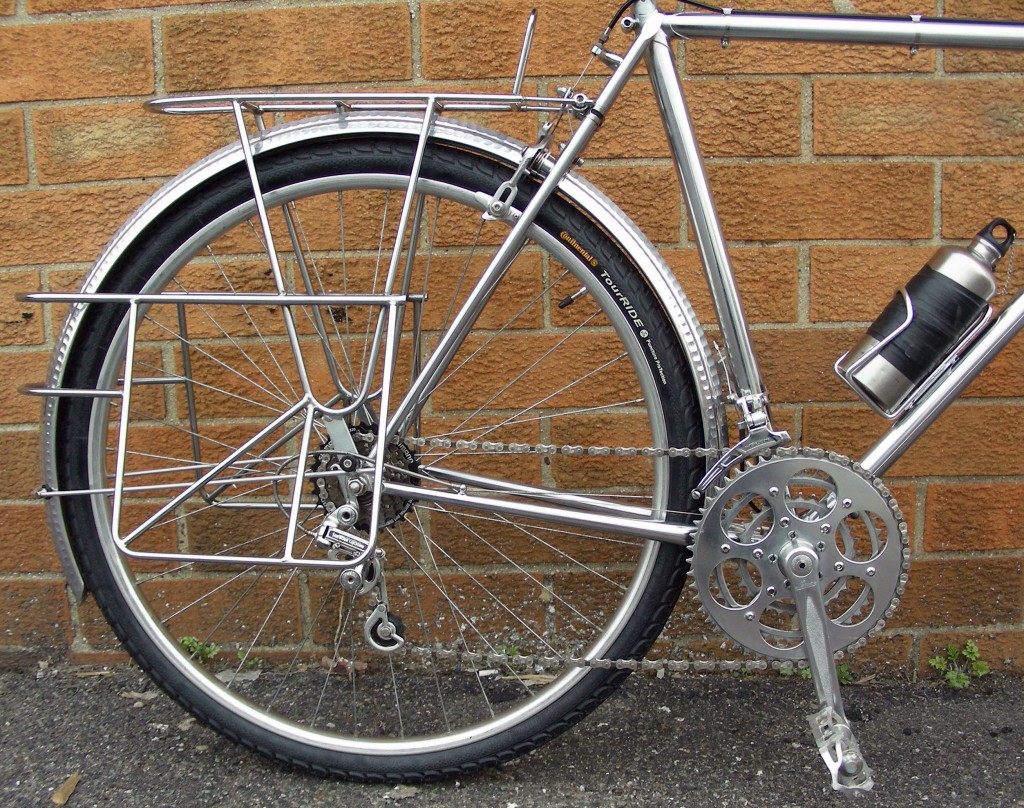 The final touches were the Honjo fenders and chrome racks. The rear rack is a handmade, vintage French piece that I found on eBay two years ago and have been saving for the right project. Since the bike frame lacked seatstay braze-ons for a rack, I improvised with some clamps and eye bolts. The front is a Velo-Orange "constructeur" rack that I bought from the bike store up the street, Silk Road Cycles. Located in Greenpoint, Brooklyn, it's convenient to have a store that specializes in touring bikes just a few blocks away!
I'm very pleased with how this restoration came out, and looking forward to seeing how it handles on my daily commute. I'm hoping that the extremely upright riding position created by the porteur bars allows me to wear a suit jacket, something that isn't really feasible on a bike with a forward-leaning setup like drop bars. All the shiny chrome is mega-bling too – I just hope it doesn't attract the attention of thieves!
Check out the full gallery: