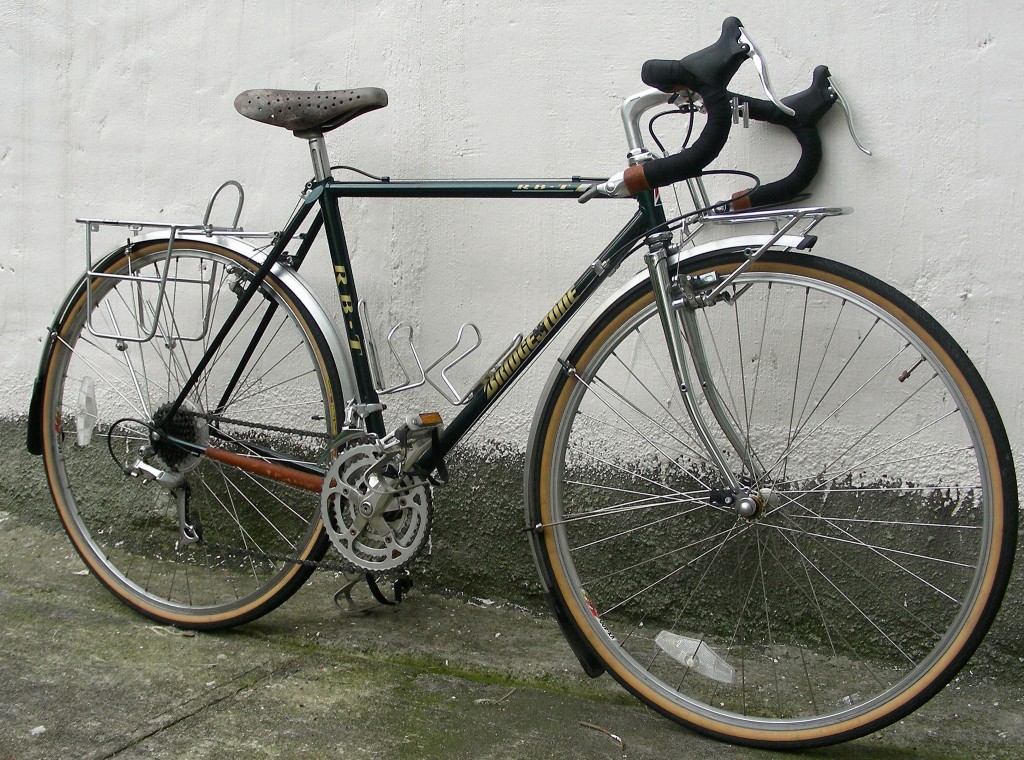 The RB-T was designed by Grant Petersen to be  a "sport-touring" bicycle, a fore-runner of today's hybrid bikes.  It's intended to fill a number of roles, from putting in long rides on the road to tearing up off road trails, to weekend touring loaded with gear.  It does all of these things quite well, and has a classic style that harks back to the French randonneur / audax bicycles of the 1950's and 60's.
This particular example was found on eBay in dusty but barely used condition.  It's a 1992 model, shown in the Bridgestone catalog here.  I cleaned it up and added a lot of new parts.  Like most of the Grant Petersen-era Bridgestones, the stock parts group on the RB-T is a well-thought out mix of reliable but affordable components.  It's hard to "upgrade" a Bridgestone, but I replaced the brakes, handlebars, and saddle with my own selections, chosen for comfort and style.  Also, it needed racks and a new fork with the appropriate eyelets to mount them on in order to be truly tour-worthy.  The result was a classy, easy-riding machine that gets a lot of compliments.  Read on for details on the restoration and build.
I added a new chrome fork with mid-blade eyelets for mounting lowrider pannier racks, Nitto M-12 front rack and R-15 rear, and SKS longboard fenders.  I switched up the cockpit to modern Tektro aero brake levers, replacing the stock Dia-Compe Blaze brake levers which seemed a bit flimsy to me.  I replaced the stock cantilevers with Dia-Compe 981 brakes, which have a more classic look.   The bar tape is Newbaum's black velo cloth, and has a layer of cork tape under it for comfort.  I finished it off with shellacked hemp twine on the bars and drive-side chain stay.  The seatpost is my favorite, a Sugino SP-KC with measurements engraved in the flutes.  Topping it off is a vintage Assos saddle – a pretty in-demand vintage item that's well worth it in terms of rear-end comfort!  The stock Avocet tires (almost 20 years old now) were replaced with Panaracer Pacela Tourguards, in a nice wide 700x32c size.
Unfortunately, I have acquired a few too many bikes, and the RB-T wasn't getting ridden enough.  I also have a Surly Long-Haul Trucker that got more use due to its ability to haul ridiculously heavy loads, plus has dynamo lighting.  However, the RB-T showed me that I'd prefer to tour in the future on 700c wheels as opposed to the 26″ wheels on the Surly.  So I got my hands on a couplered Surly Cross Check and am building it as a replacement for both the RB-T and Long Haul Trucker.  More on both of those bikes in the future.
I just sold the RB-T two weeks ago, and I hope the new owner is riding it every day.  I definitely recommend this bike to anyone looking for an all-round road, touring, and commuting bike.  It'll do whatever you need it to, plus it dresses up quite nicely if you want to go fancy with it.  Check out the gallery of pictures, below: