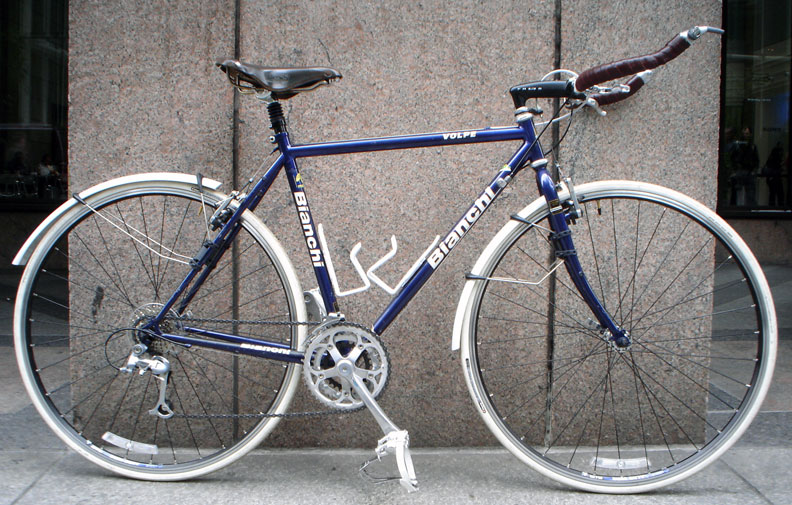 Another day, another bike post!  This is my geared touring bike that I built up from a 1998 Bianchi Volpe frame. I wanted to build a geared bike for century rides and other rides where a single-speed wouldn't be the best choice.  I also wanted to try out a bullhorn handlebar setup, which I enjoy.  It's very stable and perfect for when you really want to go fast.  This bike is still sort of a work in progress; it's comfortable and fit to me but I'd like to replace the stem to match the rest of the white & blue theme.
More details and pictures after the jump…
The only original parts are the frameset and the Shimano RSX group.  I replaced the rear cassette and chain with the same spec'd parts, and added a set of bar-cons instead of the stock brifters.  The wheelset are WTB dual-duty rims with Shimano hubs, nothing special.   The white Vittoria Rubino Pro tires and white SKS speed fenders really set off the whole color scheme though.  It has MKS Sylvan track pedals with MKS toe cages and white leather straps.
The current stem is a 130mm Cinelli Frog with Origin 8 bullhorns.  The saddle is a Brooks deluxe B-17 on a Nashbar suspension seat post.  I know the seat post and stem don't match the rest of the bike, but I chose them for comfort over style.  In the future I may end up replacing them, but rideability always trumps fashion.