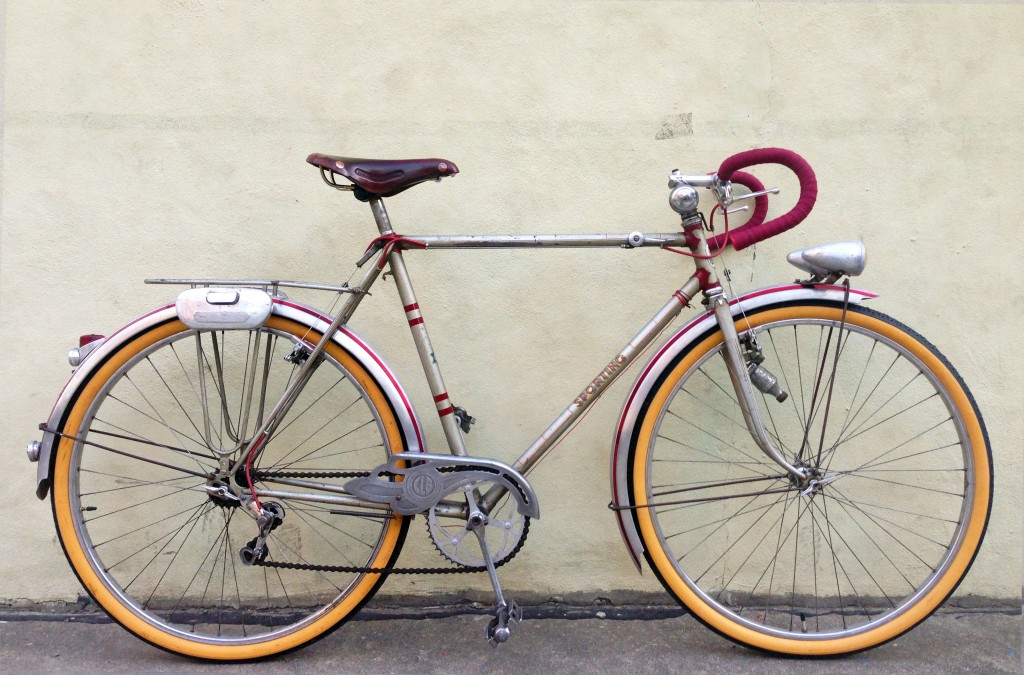 Here's a lovely
French 650B randonneur bicycl
e from the late 1940's – early 1950's that I restored over the winter months.  It's a rare marque, called "
Sporting
."  I haven't ever seen or heard of this brand before, but it's very similar in design and components to French brands like Mercier, Motobecane, Automoto, St. Etienne, etc. etc.  
Update (11/02/2015)
– I think the brand may be "
Sironval
",
after seeing a photo of the Sironval Sportplex
bike in Michael Embacher's wonderful
Cyclepedia
book.  Both bikes use the same Star of David logo and color schemes, but I haven't been able to confirm the connection.  Read on for more details on the bike, the restoration, and components…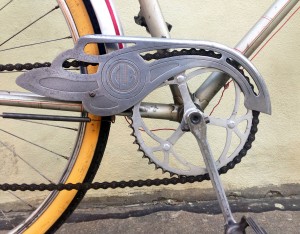 I picked this bike up from a collector in northern New Jersey.  He'd already done a good job cleaning it up, so I didn't have to do much restoration work to the frame itself.  It came with a gorgeous CLB chainguard and classy beveled cranks.
The original leather saddle and matching rack-mounted tool bags were falling apart, so I replaced the saddle with a deep red Brooks Professional and the tool bags with period-correct metal versions.  I also replaced the handlebar tape with color-matched Newbaum's cloth tape.
The tires are brand new Kenda K-133 skinwalls, which are both affordable and look perfect on a vintage bike – FINALLY!  An affordable alternative to the high-priced Grand Bois and Panaracer tires.  They are great for daily commuting and riding.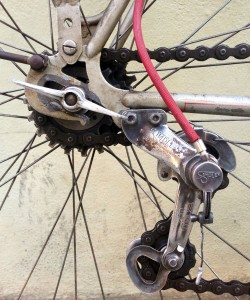 I switched the derailleur to a later-model 4-speed Simplex, and switched the 3-speed freewheel to a 4-speed Cyclo model.  It takes some tricky adjusting to get it to reliably shift through 4 speeds, but once dialed in, it works well.
The brakes are MAFAC cantilevers matched to MAFAC "guidonnet" style brake levers.  I haven't had good experiences with guidonnet levers before, as I found them to be "mushy" when I mounted them on my Mercier 650B randonneur; it took a long pull to feel the brakes engage, which wasn't reassuring.
However, the MAFAC canti brakes deliver rock-solid stopping power, and now I better understand convenience of the guidonnet lever.  Paired with the right brakes, they are elegant and easy to use.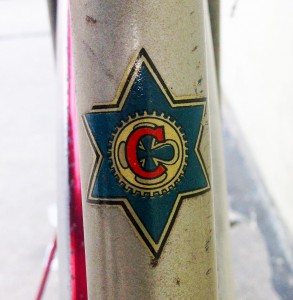 I swapped out the original single headlight for a matched pair of RADIOS brand headlights, which match the original RADIOS generator.  One of these days I will actually wire it all up, but for now I'm happy to clip on a modern battery-powered LED light for night riding.
I am totally in the dark as to the history or even back story of the "Sporting" brand though.  The logo on the head badge is vaguely reminiscent of the Peugeot lion, but the Star of David with a "C" and clover found on the seat tube and rear fender looks like a weird mash-up of Colnago and Automoto.  Hopefully someone will help shed some light on this mystery soon.
This bike will probably go up for sale soon, since I already have two 650B randonneur bikes.  It's a truly unique and distinctive bike, with some serious vintage class.  Enjoy the hi-res pics in the gallery below: