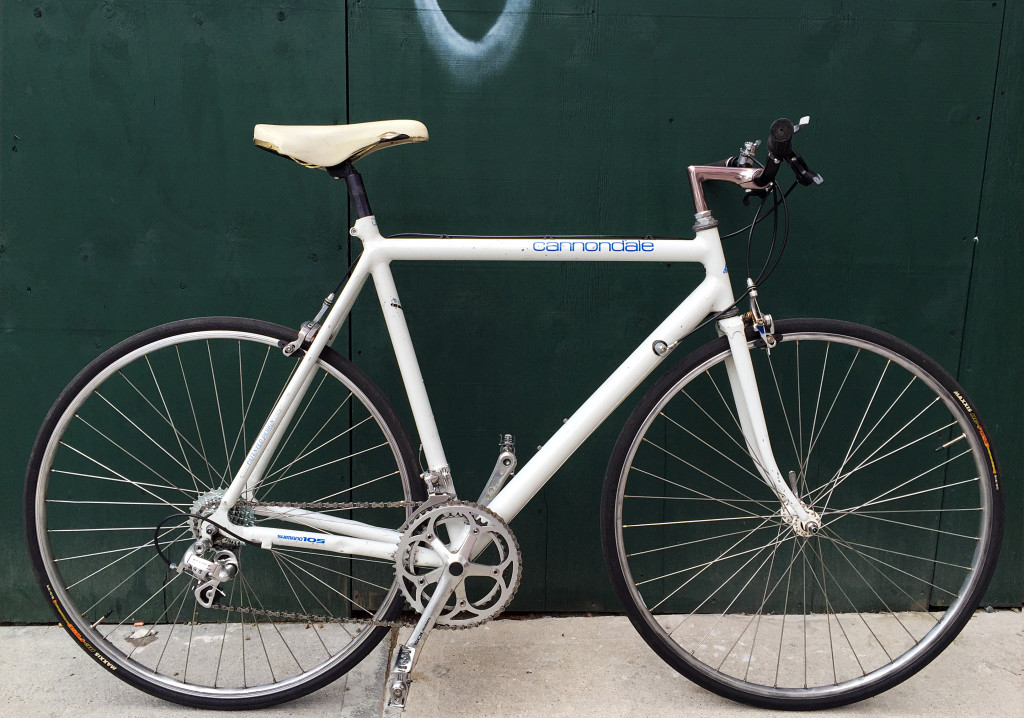 Remember that song called "I'm A Believer" by 60's boy band The Monkees?  This bike had me singing it the first time I rode it.  Why? First, some personal history: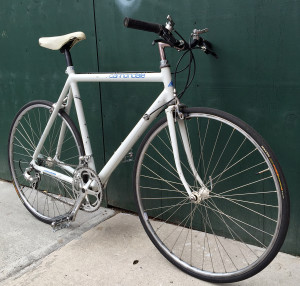 In the past, I'd always looked down on vintage Cannondale bikes.  Having ridden an aluminum fixed gear for three years in NYC, I came to conclusion that aluminum was not a good choice for city riding.  This, combined with a distaste for the fat tubes and incongruous steel fork of vintage Cannondale road bikes, left me wondering how they rose to become one of the big three bike manufacturers.
Then one day I picked up this frame set, a 1988 Cannondale SR500.  Their entry-level road bike model, it has the same frame as its pricier siblings but with the Shimano 105 groupset.  When I got it, only the cranks and headset remained from the original component set.  So I dug around in my parts boxes and rebuilt it as a flat-bar city bike.
I added Campagnolo Veloce front and rear derailleurs, and a set of Suntour LD-2800 thumbshifters.  A reliable and smooth-shifting blend of old & new.  Some new wheels (with matching white Suntour Ole hubs), a Modolo stem, riser bars, and a Selle San Marco saddle finished off the build.
I took it for a first ride and… WOW.  Yep, I'm a "believer" now.  The aggressive geometry and light weight of the bike allow for quick acceleration and handling, while the steel fork mellows out the ride.  As soon as you ride one of these bikes, it becomes clear that Cannondale had a unique and very impressive product in the otherwise steel-dominated 1980's and 90's.  I'll be on the lookout for these frames in the future!
Check out more hi-res photos of this bike after the jump…