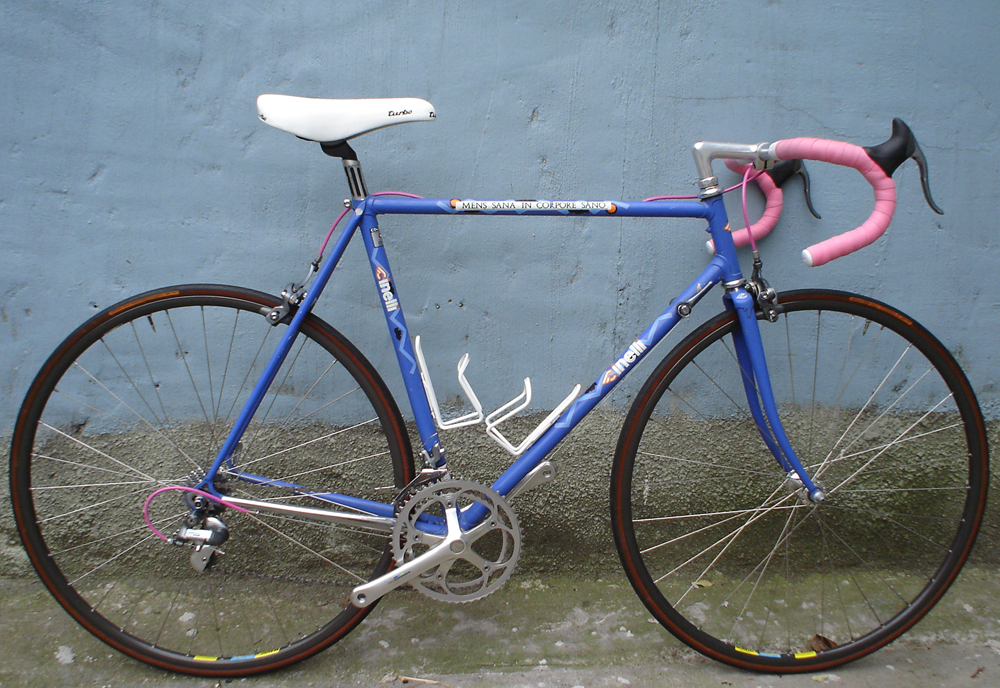 I just finished restoring this 56cm Cinelli Corsa, serial number M9141, after scooping it up on eBay.  This is a fairly mysterious Cinelli for a number of reasons.  First of all, I haven't been able to find much information on it online, other than a post on the Italian MilanoFixed blog that didn't shed any light on its origins.  It's made from Columbus Cromor tubing, placing it in the mid-range of Cinelli road bikes.   This blog placed it as a 1989 model, alongside the "Deus Ex Machina" time-trial model which has similar lugs and pantographs.
The bike came with a mish-mash of parts which I replaced or upgraded (Shimano 600 cranks, 105 RD, Campagnolo FD).  Now the bike has a full Shimano 600 tri-color groupset, with a Gipiemme seatpost and Cinelli bars and stem.  Wheelset is Mavic Open 4 CD rims laced to Shimano 600 hubs.  I replaced the original lime green Selle Rolls saddle and bottle cages with a new white Turbo and matching cages.  I refreshed the lime green bar tape and cables with pink cork tape and cable housing.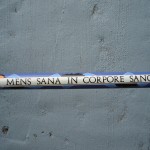 The phrase "Mens Sana In Corpore Sano" means "a healthy mind in a healthy body" and is featured prominently on both sides of the top tube.  It's not a decal, but rather part of the factory paint job.  All of the lugs are stamped with the Cinelli "C" as well as pantographs on the seatstay caps, fork crown, and cast into the bottom bracket.  I think the nicest feature of this bike are the fork crown lugs, which have a swept-back "wing" shape.