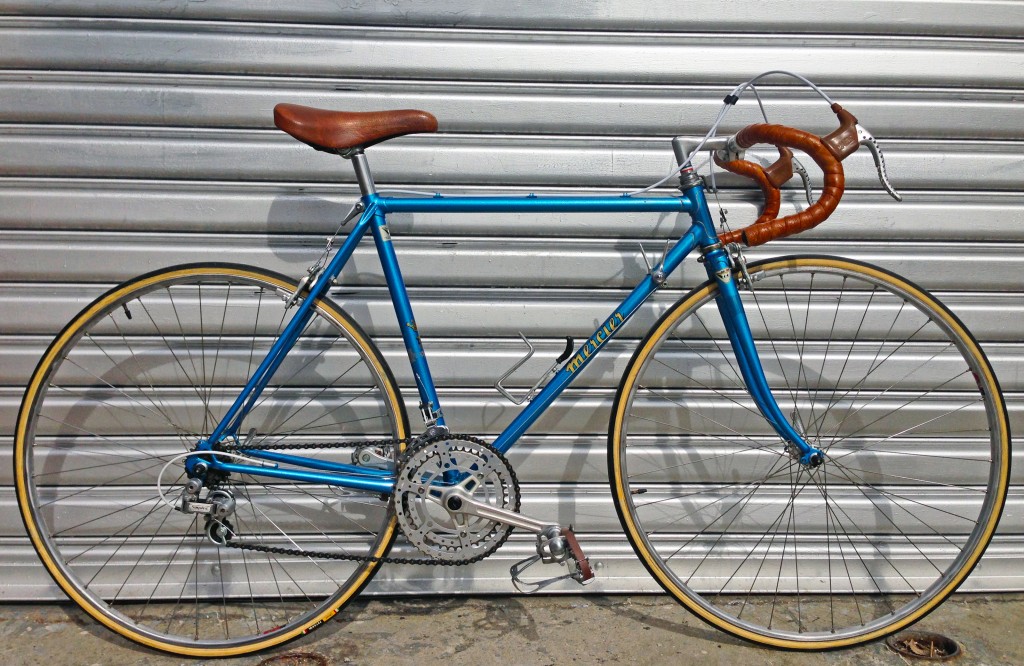 It's been several months since I've done a write up on one of my restoration projects, but now I'm back and I have a whole stable full to show off.  First in line is this 1980 Mercier Salève "velo de course".  A mid-range road racer as seen in this catalog from the early 1980's, it features Vitus tubing and drop-outs.  I like the paint and logo schemes of the early 80's Mercier bikes more than any of the other eras.  It's restrained but the blue paint glows with a subtle sparkle.  Read on for more…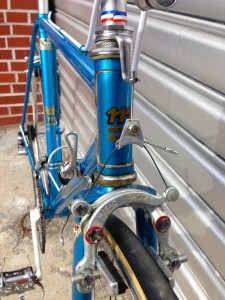 This example measures 53cm from the center of the crank to the top of the seat tube, and the top tube center-to-center measurement is 55cm.  The head tube angle is a steep 72 degrees and the seat tube angle is 74 degrees.  The Salève is a race bike meant for the road.
The bike arrived complete and in its original configuration from France in early January.  It is equipped with a Stronglight TS Bis crankset and a Simplex drivetrain: an SX-610 rear derailleur and matching SX A22 front derailleur.  Shifting is buttery smooth thanks to Simplex retrofriction shifters.  A set of very well preserved MAFAC "Racer" brakes and a set of Course 419 brake levers provide powerful stopping power.
I started the restoration by stripping it down to the frame.  All of the parts were ultrasonically cleaned, and then serviced and polished.  The frame was carefully cleaned, rubbed down, and then waxed to bring out the luster of the paint.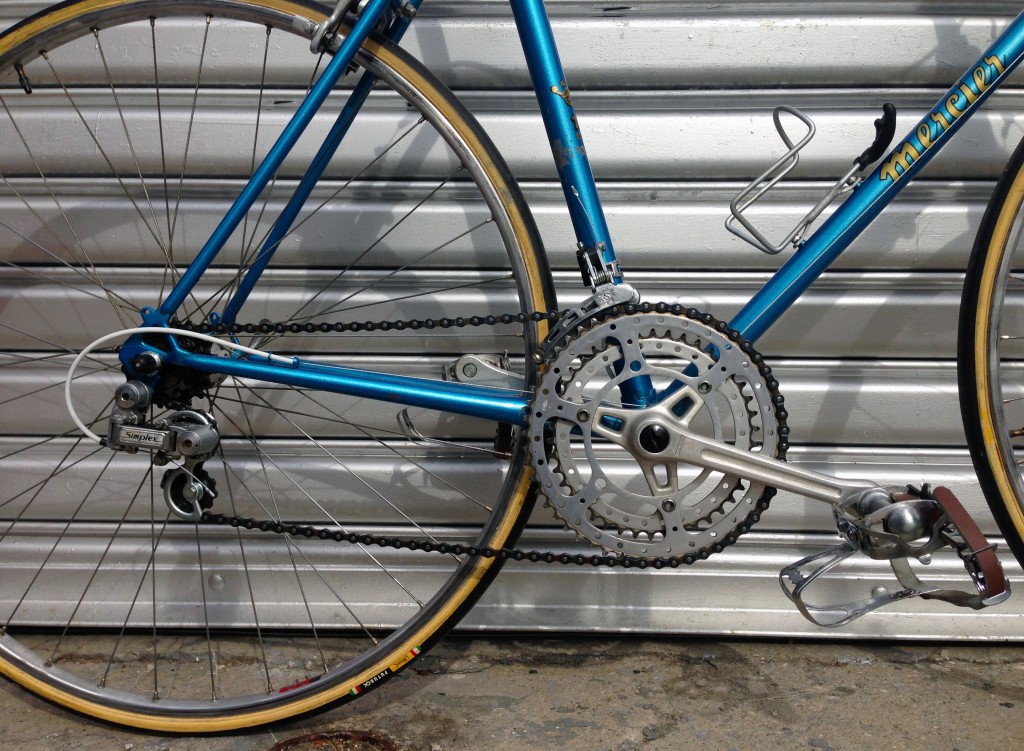 I found a cool perforated brown leather Selle Italia saddle that matches the brake lever hoods and added a new set of matching leather toe straps to the chromed AFA toe clips and lightweight Atom pedals.  Then I wrapped the bars in Cinelli cork tape and lacquered them to match.  Brand new bright white cable housing accents the frame well.  The wheelset of Atom hubs and MAVIC Monthlery Route rims was hand-polished and the tubular tires were replaced with a pair of new-old-stock skinwall Clement Futura kevlar tubulars.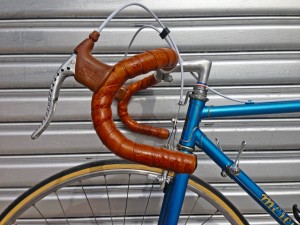 The Salève is exactly my size and I enjoyed the ride immediately.  It has tight, responsive steering due to the aggressive racing geometry of the frame, and a comfortable "French fit" with a long top-tube.  Riding it around the narrow, potholed streets of my Brooklyn neighborhood, it made me long for miles of smooth, unbroken pavement to really open up and ride this bike as fast as it's meant to go.
White technically an "amateur racer" in the Mercier 1981 line-up, the Salève is handsome and businesslike, with subtle gold lug-lining accenting the straight forward lug design.  Check out the full gallery of photos below to see more close-ups of this lovely bike!