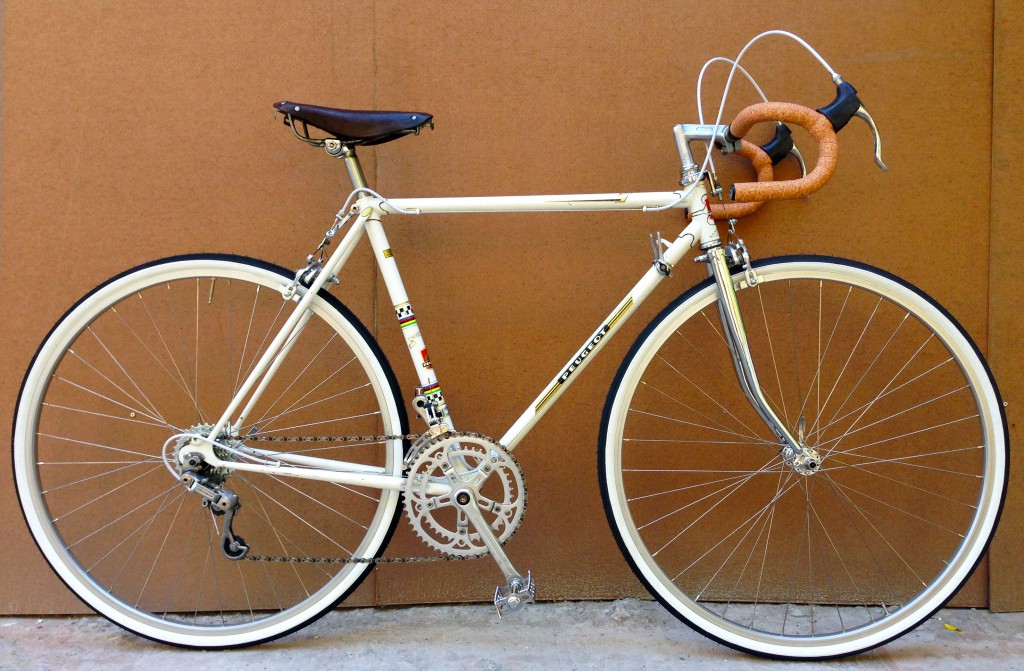 A couple months ago, I found a
Peugeot UO-8 frame
by the side of the road in Brooklyn.  I lugged it home in the pouring rain, eager to strip off the MAFAC brakes and leather saddle, which have become hard to find.  After I cleaned up the frame in my workshop though, I realized that it was in fantastic condition!  Immediately, I knew this Peugeot was going to live again. 
Read on to learn about the restoration process…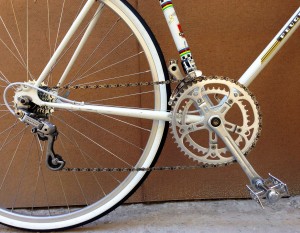 I removed the clunky old cottered crankset (by cutting straight through the bottom bracket axle, gotta love a Dremel) and replaced it with a modern three-piece bottom bracket.  Action Bicycle makes French-sized cup-and-cone bottom bracket sets, and I always keep one or two new ones on hand for projects like this.
I installed a full Simplex drivetrain: a Simplex alloy crankset, a Peugeot-branded SX-610 long-cage rear derailleur and matching SX-A22 front derailleur.  Shifting is buttery smooth thanks to a set of Italian Gian Roberts shifters.  A set of very well preserved Peugeot-branded Weinmann centerpull brakes and chrome brake levers with brand new rubber hoods provide plentiful stopping power.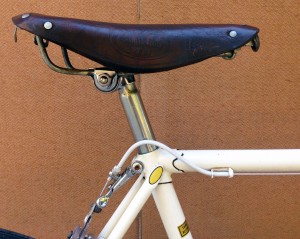 I replaced the missing fork with a new chrome one, which had the added benefit of making the frame compatible with normal 22.2mm diameter stems – no need to for a "death stem" on this bike!  Instead, I installed a nice Raleigh stem that's been living in my parts box for far too long.
I also replaced all the cables and housing, and the new white housing matches the frame nicely.  I bought a brand new 27″ alloy wheelset and white-wall tires – baby's got new shoes!  The SunRace freewheel I added has 6 speeds, making this bike a proper 12 speed now.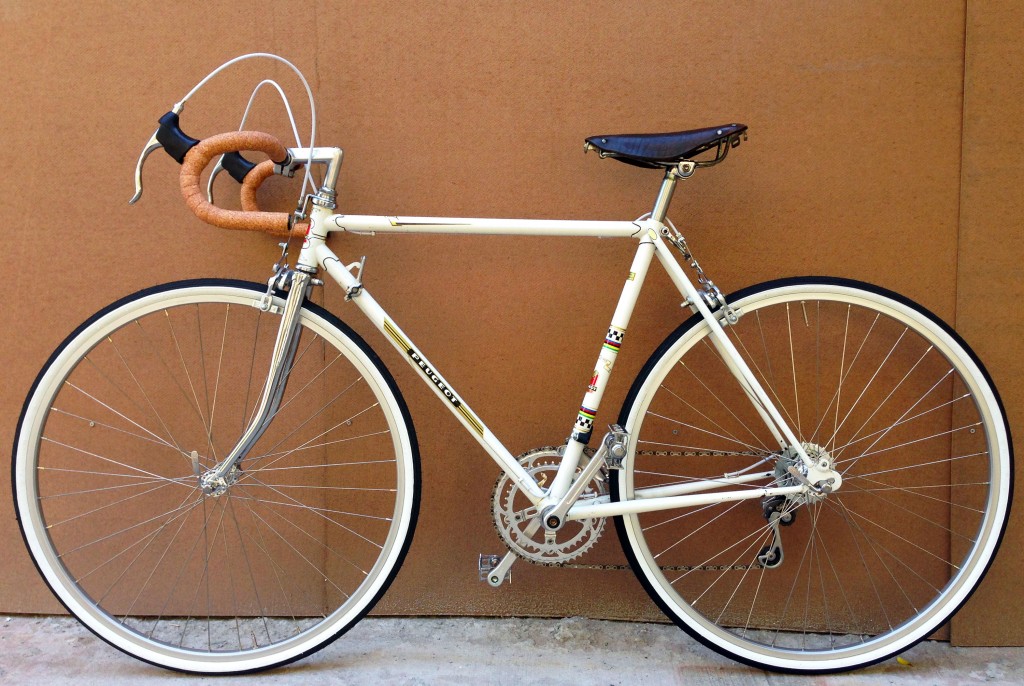 To finish it off right, I got a set of Peugeot-branded Weinmann centerpull brake calipers and some gorgeous chrome brake levers with new rubber hoods.  The fresh cork bar tape is comfy and classic, probably my favorite go-to bar covering – all the style of leather for a fraction of the cost, and probably better cushioning too.
I took this bike for a ride around the neighborhood yesterday, and felt for the first time the famous Peugeot ride that so many vintage collectors rave about.  Yes, this is a 70's "boom bike" with unexceptional tubing and stamped drop-outs, but wow does it have a great ride!  It handles well and feels nimble yet steady.  If I see another UO-8 in the future, I'll be sure to grab it!